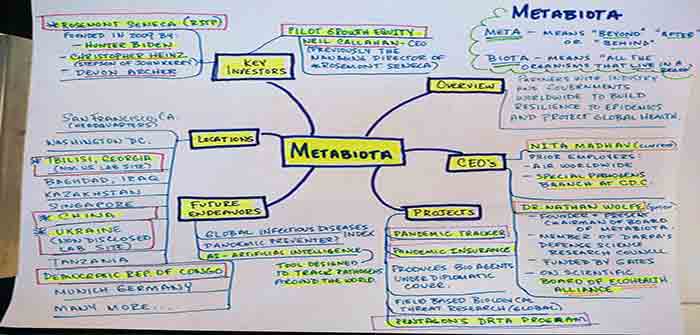 by Emerald Robinson at Emerald Robinson's The Right Way
Did Hunter Biden ever divest himself of his Chinese assets?
I'm the last reporter to ask the Biden regime that question of course — and that was a year ago.
The Biden Regime is beyond corrupt. pic.twitter.com/bS2HYenJ5J

— Breitbart News (@BreitbartNews) October 5, 2021
That old question came back to me this week because the attorney Tom Renz has released a whistleblower report from a former vice president of EcoHealth Alliance named Dr. Andrew Huff that contains the following astonishing claim: a company called Metabiota was funded by Hunter Biden's investment firm Rosemont Seneca and by the CIA's own investment arm In-Q-Tel.
What was Metabiota doing? It was working with EcoHealth Alliance and others to "investigate coronaviruses."
---
---
Look at that last date again: 2014.
Hunter Biden's firm has been working with third-party proxy EcoHealth Alliance to weaponize bat coronaviruses since 2014.
The purpose of the project is to "enable global surveillance for pathogens…"
Global surveillance.
That's why Hunter Biden's Metabiota is ostensibly a medical data company that pushes a…
Continue Reading