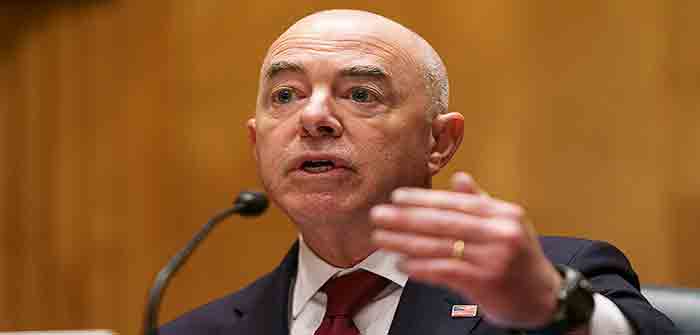 by Richard Moorhead at The Western Journal
Secretary of the Department of Homeland Security Alejandro Mayorkas testified before the Senate Appropriations Committee on Wednesday.
The beleaguered Biden cabinet member faced criticism for his job performance.
Republicans skewered Mayorkas over his refusal to enforce immigration law and halt the tidal wave of illegals infiltrating the U.S. southern border.
.@SenRonJohnson drills Mayorkas on our open borders and the failure of this administration. pic.twitter.com/uY8IpSALsS

— MRCTV (@mrctv) May 4, 2022
Sen. Rand Paul questioned Mayorkas on the creation of a new "Disinformation Governance Board" within DHS.
Sen @RandPaul just EVISCERATED Secretary Mayorkas on the Department of Homeland Security's "Ministry of Truth."

"I think you've got no idea what disinformation is…Do you know who the greatest propagator of disinformation in the history of the world is? The U.S. government." pic.twitter.com/ZTnjUsTQne

— Townhall.com (@townhallcom) May 4, 2022
Mayorkas rejected claims that the bizarre "Disinformation" board would be used to thought-police the American public, instead emphasizing that the entity would focus on disinformation from Iran, Russia and human smuggling cartels.
Paul rejected the notion…
Continue Reading