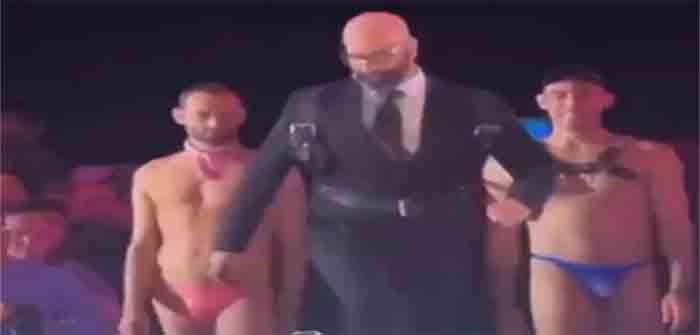 by Jake Welch at The National Pulse
Recent footage shows the White House's National Monkeypox Response Deputy Coordinator, Dr. Demetre Daskalakis, strutting onto stage at the annual Biomedical HIV Prevention Summit last month wearing bondage straps around his waist and shoulders.
Dr. Daskalakis – the disturbing habits of whom The National Pulse first reported on last year –  can be seen walking in front of two half-naked men. The Vegas HIV summit was sponsored by Gilead, Janssen, Mistr, QCare, and ViiV Healthcare.
WATCH:
In April, Las Vegas hosted The 2023 Biomedical HIV Prevention Summit.

The man entering the stage is Dr. Demetre Daskalakis, Biden's Deputy National Coordinator for Monkeypox Response.

Our country is run by clowns and pervs. pic.twitter.com/Kugsb36hBj

— I Meme Therefore I Am 🇺🇸 (@ImMeme0) May 20, 2023
An Appreciation of Satan.
First reported last year after his White House appointment under Biden, Dr. Daskalakis is famous for his obsession with the occult, Satanism, and his pentagram tattoo which reads, "I have learned there is light even in the darkest places."
Dr. Daskalakis and his gay partner post incessantly about their demonic hobbies. The pair even opened up a Satanic-themed gym in New York, reported on by the New York Times, with an advertisement reading "We'll Steal Your Soul."
Daskalakis's work has been lauded by gay magazine The Advocate,…
Continue Reading