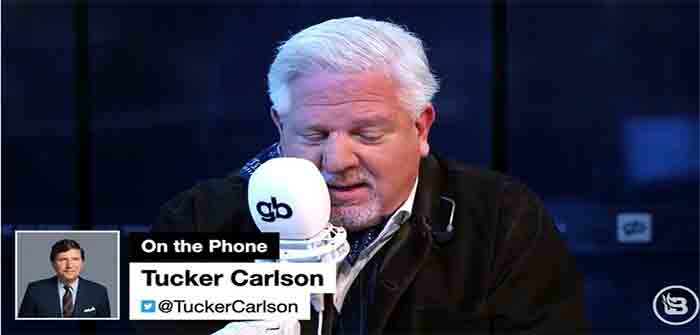 by Joseph MacKinnon at The Blaze
Tucker Carlson joined nationally syndicated radio host and co-founder of Blaze Media Glenn Beck on his radio show Wednesday to discuss the uncut and narrative-destabilizing footage of the Jan. 6 protests, which the Fox News host has been playing on his show.
TheBlaze previously noted that much of the footage that House Speaker Kevin McCarthy (R-Calif.) granted Carlson access to appears to contradict key claims made by members of the Jan. 6 committee and dutifully circulated by the liberal media.
Carlson noted that extra to distortions — such as the deceptive edits used to smear Sen. Josh Hawley (R-Mo.) as a coward or the addition of screaming sounds to videos originally recorded without audio — the Jan. 6 committee advanced lies wholly severed from the reality of what actually happened at the Capitol in order to shape a politically expedient narrative.
New footage debunks the previously released Josh Hawley tape by the Jan. 6 Committee:

"The surveillance footage we reviewed shows that famous clip was a sham, edited deceptively by the January 6th Committee. The clip was propaganda, not evidence. The actual videotape." pic.twitter.com/TusLSglgn1

— TheBlaze (@theblaze) March 7, 2023
Dark forces and bold lies
"You called the January 6 committee members liars," said Beck, referencing both Carlson's commentary Monday and committee members' promotion of the claim that Capitol Police Officer Brian Sicknick had been killed as the result of injuries sustained that day.
"Do you … make the case that they're liars? They didn't just, you know, fib a bit and eat around the corners — that these are full-fledged liars?" asked Beck.
Carlson replied,…
Continue Reading