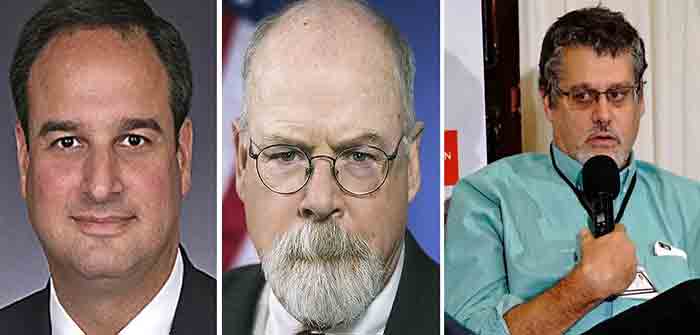 by Techno Fog at The Reactionary
We have the transcript to yesterday's hearing in the Michael Sussmann case, where the judge heard argument relating to the privilege dispute over the following:
Documents involving Fusion GPS's provision of opposition research and media-related strategies to Hillary for America, the DNC, and Perkins Coie. This includes the Fusion GPS/Perkins Coie contract and 38 e-mails and attachments between and among Fusion GPS, Rodney Joffe, and Perkins Coie.
Communications between Fusion GPS and Rodney Joffe relating to the Alfa Bank allegations, and "other emails that precede, and appear to relate to, those communications." This include emails between Joffe and Laura Seago, whom Durham has subpoenaed as a trial witness.
Hillary for America (or what we might call the Clinton campaign), the DNC, Rodney Joffe, Perkins Coie, and Fusion GPS have all been involved in this privilege fight, submitting declarations in support of their motions against Durham's access to these documents/e-mails. Here we discussed the Clinton Campaign's dubious assertion that Fusion GPS was providing "legal advice" to the campaign's lawyers, Perkins Coie.
We've been confident that Durham would win this fight, especially in light of newly-available FEC General Counsel Reports which concluded "there is no evidence that Fusion provided services other than this opposition research."
Yesterday's hearing only seems to confirm that Durham will get these records – to an extent (more on that "extent" below). As we updated on Twitter, the Court granted Durham's motion to compel production of documents for in camera review (meaning review by the judge). The purpose of this step is so the judge can determine whether the attorney-client privilege and/or the work product protections apply to these documents and communications.
The key part of the Clinton Campaign's "privilege" argument is that Fusion GPS was providing "legal support" or "legal advice" to their attorneys at Perkins Coie. For the 38 e-mails in question, the judge asked the Clinton Campaign lawyer about whether those e-mails might support that theory. (This is important because the judge will look at these e-mails individually – and because the judge recognized that "opposition research . . . does not, under the case law, fall within the attorney-client or work product privileges.") The Clinton Campaign lawyer response to that question was a damning "I don't":
The transcript also sheds light on the content of the e-mails – or at a minimum, the subject matter of the e-mails. All 38 e-mails relate to the Alfa Bank allegations. 30 of those are "internal Fusion emails" and 8 are correspondence involving Rodney Joffe…
Continue Reading