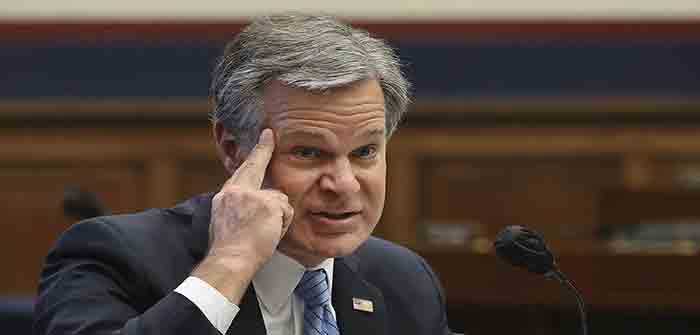 by Margot Cleveland at the Federalist
FBI Director Christopher Wray sat for nearly four hours of questioning on Wednesday before the House Judiciary Committee. Here are the top takeaways from the hearing.
1. Wray Indicates Foreign Intel Agencies Worked with Big Tech to Silence Speech
The FBI director faced fierce questioning from Republican committee members on the FBI's efforts to induce Big Tech to censor American speech. Several representatives specifically challenged Wray to justify the FBI passing along requests from the Ukrainian intelligence agency, SBU, to social media companies. The FBI's role as a conduit for SBU was just revealed on Monday in a report from the House Select Subcommittee on the Weaponization of the Federal Government.
That report revealed that following Russia's invasion of Ukraine, the SBU enlisted the FBI to forward to American social media companies lists of accounts that allegedly "spread Russian disinformation." The FBI obliged, sending a flurry of requests for accounts to be removed, including many American accounts, to multiple social media platforms. In fact, the House report highlighted the inclusion of the official, verified, Russian-language account of the U.S. State Department. The House Judiciary Committee queried Wray on how this could happen, while also inquiring why the FBI would assist the SBU in this endeavor, especially in light of Russia's known infiltration of SBU.
In explaining the FBI's involvement, Wray stressed that Russia's invasion of Ukraine in February 2022 had cut off Ukraine's communications, causing SBU to ask the FBI to contact U.S. companies on their behalf with the list of accounts supposedly spreading Russian disinformation. But as Republicans on the committee highlighted, the account lists in question included American accounts. Thus, the FBI's involvement triggered the same First Amendment problems as those litigated in Missouri v. Biden.
This testimony also raised a second area of concern, namely the apparent coordination between U.S. social media companies and foreign governments. Wray said he served as an intermediary because Ukraine's communications system was down. But in that case, it appears SBU would have contacted the American companies on its own behalf, seeking the silencing of Americans' speech.
So the question for American social media companies is this: Do they accept requests to remove accounts or posts from foreign countries? And do they censor Americans' speech based on foreign claims of disinformation?
2. Private Corporations Present a Bigger Concern Than Wray
Social media companies are not the only ones who have some explaining to do following Wray's testimony. Americans should also demand answers from private businesses with access to consumer information, especially those in the financial sector.
This concern flows from Wray's response to questioning about Bank of America
Continue Reading