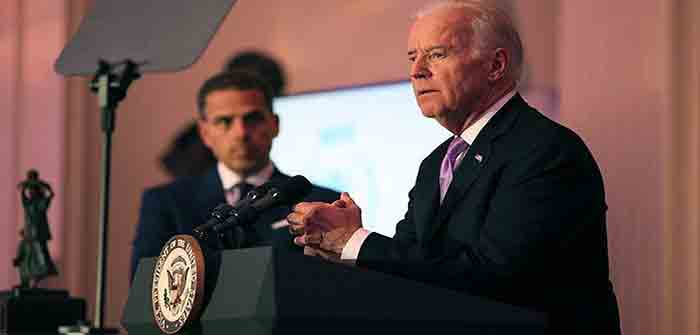 by Debra Heine at American Greatness
Tony Bobulinski, the Biden family's former business partner, shared documents with Fox News' Tucker Carlson  Tuesday night that showed how Hunter and Jim Biden "defrauded" him and two other partners of at least $5 million from the Chinese energy firm CEFC and "took the money for themselves."
He also revealed for the first time that Jim Biden, Joe's brother, attempted to contact him by phone while he was being interviewed by the FBI in October of 2020.
The phone call, which Bobulinski missed, came at 1:37 p.m. on October 23, 2020, as he was telling two FBI agents about Joe Biden's 10 percent cut in the family's lucrative business deal with CEFC, a Chinese Communist government-linked energy firm.
"On my BlackBerry, Jim Biden called me via WhatsApp," Bobulinski, a former Lieutenant in the U.S. Navy, explained. "My phone starts ringing in the middle of this interview. So, I looked down and I'm like, 'Is he really calling me right now?'"
So, I show the phone to my lawyer and … then I showed it to the agent. The agents got up out of the chair and left the room. They were like, 'You can take that call if you want.' And so, I answered it and there was nobody on the other side. So, I don't know if it was a mistake or that he tried to send me a message, or what it was. But that's the last interaction or communication I've had with the Biden family.
🚨🚨🚨: Tony Bobulinski reveals that Joe Biden's brother Jim called him in the middle of his interview with the FBI on October 23 during the 2020 election. He says the agents then got out of their chairs and left the room but there was no one on the line when he answered. pic.twitter.com/rFW09MYPjr

— Greg Price (@greg_price11) October 5, 2022
Bobulinski gave the FBI a five-hour interview and handed over the contents of his three cellphones which reportedly contained "encrypted messages between Hunter and Jim Biden and their business partners, emails, and financial documents detailing the Biden family's influence-peddling operation in foreign countries during Joe's vice presidency."
"I wish I had pictures of the two main agents that were interviewing me,"…
Continue Reading