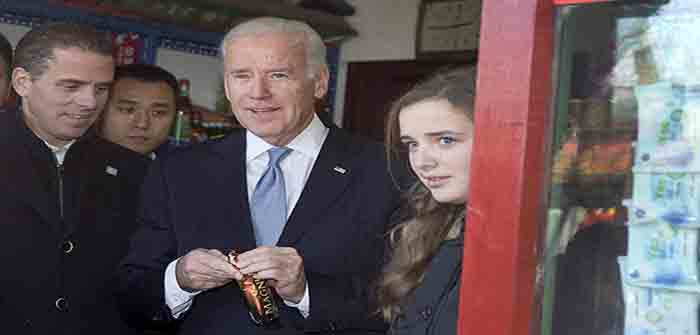 Allegations that Biden both knew of, and participated in, his son's business dealings were first published in the New York Post. The articles reported that Hunter Biden had dropped off a laptop at a computer repair shop in Delaware and never returned to pick up the device.
The store owner — a Trump supporter — says he found lewd images and video of Biden on the laptop's hard drive, alongside emails that, if authentic, would suggest Hunter Biden arranged a meeting between his father and an executive of the Ukrainian gas company Burisma.
Hunter Biden joined Burisma's board of directors in April 2014, shortly after his father took over as the Obama administration's chief liaison to Ukraine.
Later reports detailed further alleged emails and text messages suggesting the elder Biden also stood to gain monetarily from his son's dealings with a Chinese investment firm.
The Daily Caller News Foundation (DCNF) obtained a Senate report in late September supporting the allegations leveled in the original news articles. The report says several U.S. banks flagged "suspicious financial transactions between Hunter Biden's firms and Russian and Chinese nationals, including a businessman with extensive ties to the Chinese Communist Party."
The allegations relating to China received further support after one of Hunter's business associates, Tony Bobulinski, came forward to corroborate emails alleging Biden was going to receive monetary compensation thanks to his son's dealings with a Chinese firm.
Bobulinski told reporters in a much-publicized press conference last week that he had met personally with Joe Biden regarding his family's business ties to China, with which he said the presidential candidate was "plainly familiar."
"I have heard Joe Biden say he's never discussed business with Hunter. That is false," Bobulinski said. "I have firsthand knowledge about this because I directly dealt with the Biden family, including Joe Biden."
While Biden's presidential campaign was quick to message against allegations reported in the Post, neither Hunter nor Joe explicitly denied that a meeting occurred or that Hunter had dropped off his laptop at the Delaware repair shop.
Emails say the proposed structure for the Chinese firm stipulated that Hunter Biden, Bobulinski, and two others would each hold a 20% equity stake in the firm, while Joe Biden's brother, Jim Biden, would hold a 10% stake in the venture, according to the alleged emails.
The email adds that an additional 10 percent would be "held by H for the big guy." Bobulinski says "the big guy" does in fact refer to Joe Biden.
The Media's Response:…
Continue Reading