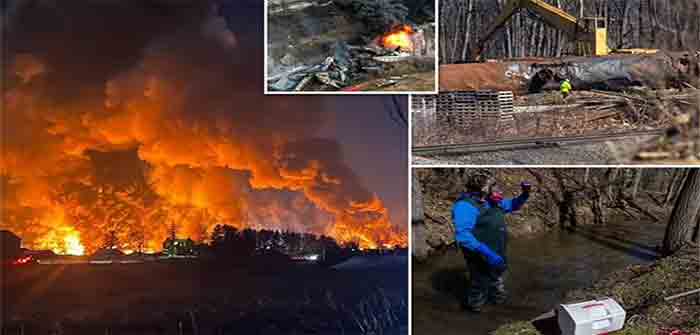 by Laura Collins at Daily Mail
Residents are seeing a resurgence of environmental and health problems brought by excavation and clean up efforts at the site of last month's train derailment in East Palestine, Ohio 

Five weeks on, the air is once again thick with the aroma of toxic chemicals, some residents still don't have safe potable water, some are suffering health issues, and layers of dark soot have covered their property 

Official tests by the EPA deemed the municipal drinking water safe, but private contractor Scott Smith, 57, told DailyMail.com they don't detect dioxins – a carcinogenic byproduct of burning vinyl chloride
It's been five weeks since the derailment of a Norfolk Southern train carrying a toxic soup of carcinogenic and corrosive chemicals lit up the night sky over East Palestine but residents of the Ohio town are still faced with more questions than answers.
Is the water safe to drink or bathe in? Is the ground on which their homes sit safe for their children and pets to play? Is the air safe to breathe?
Now, one month after those who lived within the evacuation zone were told it was safe to return, DailyMail.com can reveal, many are choosing to leave as the air is once again thick with the aroma of toxic chemicals.
Residents are falling sick reporting nausea, headaches, respiratory problems and bloody noses. Children have been admitted to hospital, suffered rashes, burning eyes and skin…
Continue Reading