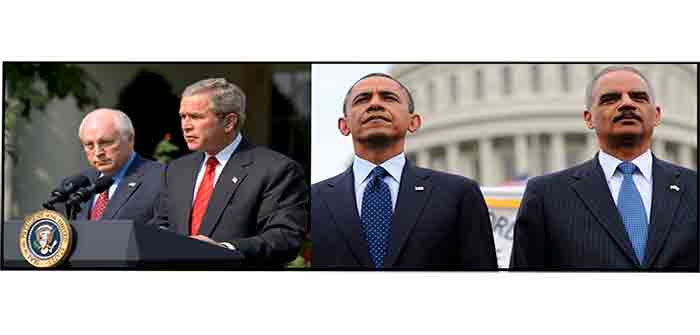 by Sundance at The Conservative Treehouse
Barack Obama and Eric Holder did not create a weaponized DOJ and FBI; the institutions were already weaponized by the Patriot Act.  What Obama and Holder did was take the preexisting system and retool it, so the weapons of government only targeted one side of the political continuum.
This point is where many people understandably get confused.
Elevator Speech:
(1) The Patriot Act turned the intel surveillance radar from foreign searches for terrorists to domestic searches for terrorists.
(2) Obama/Biden then redefined what is a "terrorist" to include their political opposition.
In the era shortly after 9/11, the DC national security apparatus, instructed by Vice President Dick Cheney, was constructed to preserve continuity of government and simultaneously view all Americans as potential threats. The Department of Homeland Security (DHS) and the Office of the Director of National Intelligence (ODNI) were created specifically for this purpose.
After 9/11/01, the electronic surveillance system, that was originally created to monitor threats from abroad, was retooled to monitor threats inside our country.  That is when all of our electronic 'metadata' came under federal surveillance.
That inflection point, and the process that followed, was exactly what Edward Snowden tried to point out.
What Barack Obama and Eric Holder did with that new construct was refine the internal targeting mechanisms, so that only their political opposition became the target of this new national security system.
The problems we face now as a country are directly an outcome of two very distinct points
Continue Reading