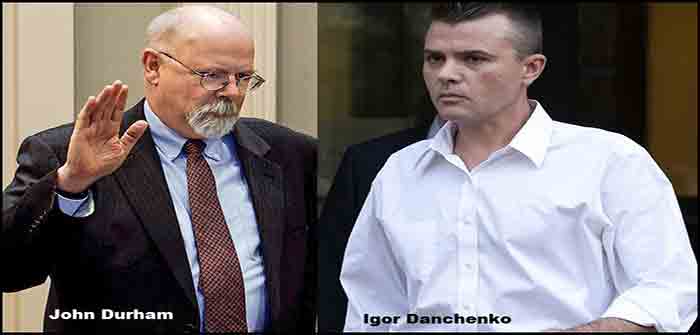 by Sundance at The Conservative Treehouse
This is sickening to read, and perhaps even more sickening to accept.  CTH has long outlined the belief that Bill Barr was the Bondo application to cover for the DOJ and FBI institutional rot, and John Durham was the ongoing spray paint application.  The bottom line is to first understand a DC operation is ongoing to preserve the institutional credibility of the justice system; a credibility, which is – at this point, entirely destroyed; yet the effort continues.
In a court motion today [pdf HERE], special prosecutor John Durham outlines the case against Christopher Steele's primary source, Igor Danchenko.  For more granular information about the filing itself, visit Techno Fog [review article HERE].  The basic legal case brought by Durham is predicated on the notion that Christopher Steele's source for his dossier, Igor Danchenko, willfully and intentionally lied to the FBI, and therefore Danchenko is guilty of purposefully misleading FBI investigators assigned to the Trump-Russia/"crossfire hurricane" investigation.
This is where we must stop pretending.  The Durham premise of a "duped FBI" is laughable on its face. No one in the FBI or DOJ-NSD was "duped" by false information from Igor Danchenko.  The lies were well known to be false, yet materially beneficial to the unspoken intention of the DOJ/FBI, which was to target Donald Trump.   The corrupt intention of the DOJ and FBI is the important element that John Durham was appointed to protect.
John Durham is running a Deep State cover operation to protect the institutions of the DOJ and FBI from their prior activity. The bulls**t of pretending this is not his motive, well, quite simply, needs to stop.  Just look at today's filing itself, overlay the timeline, and you can see the corrupt intention of the FBI and John Durham's clear objective to cover for them.
The big picture takeaway is right there on the second page.  Pay attention to the dates.
From January 2017 through October 2020 the FBI was using Danchenko as part of its investigation.  This includes the entire timeline of the Robert Mueller and Andrew Weissmann special counsel operation which took place from May 2017 to April 2019.
Danchenko was Christopher Steele's primary source for information he put into his "dossier"…
Continue Reading