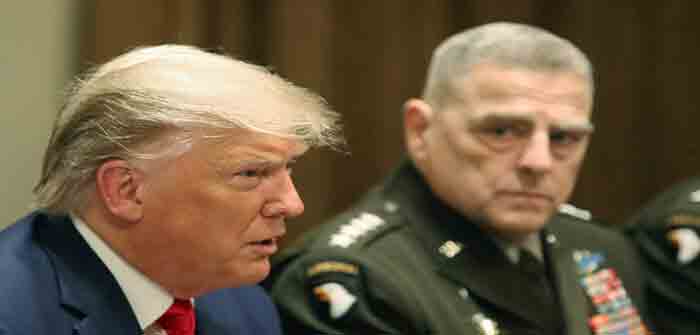 by Jack Phillips at The Epoch Times
Former President Donald Trump responded to anonymously sourced reports claiming a top U.S. general made comments he was worried about a coup attempt after the 2020 election.
Gen. Mark Milley, the chairman of the Joint Chiefs of Staff, allegedly told his subordinates he felt the need to be "on guard" after Nov. 3, according to a book from two Washington Post reporters that cited anonymous officials. "You can't do this without the military. You can't do this without the CIA and the FBI. We're the guys with the guns," the general reportedly said.
But Trump, in a statement on Thursday, said Milley's comments were false.
"I never threatened, or spoke about, to anyone, a coup of our Government," Trump said in an emailed statement. "So ridiculous! Sorry to inform you, but an Election is my form of 'coup,' and if I was going to do a coup, one of the last people I would want to do it with is General Mark Milley."
Trump's statement then took aim at former Defense Secretary Jim Mattis.
"He got his job only because the world's most overrated general, James Mattis, could not stand him, had no respect for him, and would not recommend him," the former president added. "To me the fact that Mattis didn't like him, just like Obama didn't like him and actually fired Milley, was a good thing, not a bad thing. I often act counter to people's advice who I don't respect."…
Continue Reading