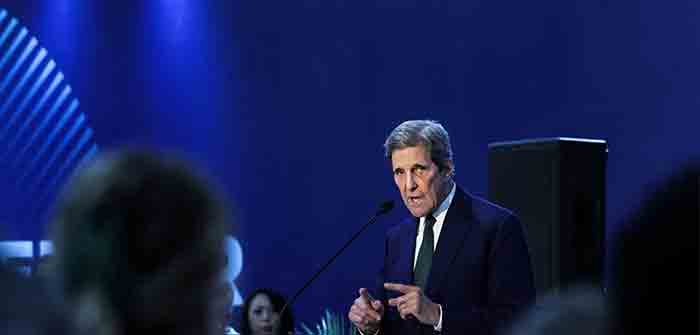 by Leo Hohmann at The Gateway Pundit
The World Economic Forum's climate change agenda was "modeled" off the effort to roll out vaccines during the Covid pandemic, John Kerry said during a COP27 panel discussion in Egypt on Tuesday.
That means we can all look forward to high-pressure, coercive government tactics, and not only from the government but from corporate elites.
Appearing alongside WEF President Børge Brende and various corporate executives, U.S. Special Presidential Envoy for Climate John Kerry said that it is urgent for the private sector to pair with governments to realize the goal of preventing the global temperature from rising and to save lives in the allegedly looming global climate crisis, Breitbart reported.
Kerry said in a speech before the panel:
"We have an enormous challenge before us to bring to scale new technologies and to harness the deeply capable capacity of private sector entrepreneurs in order to bring them to the table because without it, no government has enough money… we need everybody behind this."
King Charles has made similar statements, that we need nations to pool their resources and raise a trillion dollars to combat climate change.
Kerry further promoted the WEF's launch of its First Movers Coalition,…
Continue Reading