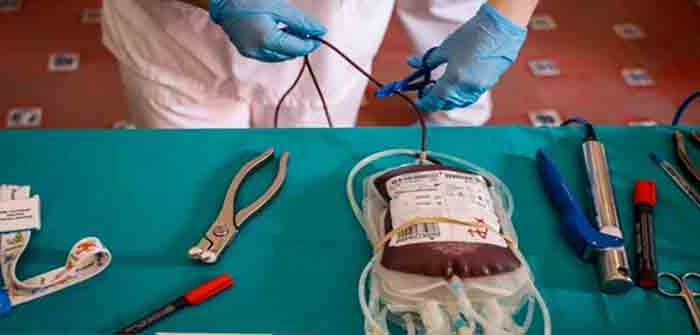 by Tim Hume at Vice
Anti-vaxxers are trying to create a new global infrastructure for the supply of unvaccinated blood, driven by conspiracy theories and pseudoscientific beliefs about the dangers of mRNA COVID vaccines.
SafeBlood Donation was founded by a Swiss naturopath, George Della Pietra, who considers global coronavirus vaccination campaigns to be "the crime of the century."
He and his supporters believe, wrongly, that mRNA coronavirus vaccines "contaminate" the blood and destroy the immune system, and that unvaccinated people will be harmed if they receive transfusions of blood supplied by vaccinated people.
While traditional vaccines use inactivated virus proteins called antigens to stimulate the body's immune system, mRNA vaccines, such as the Pfizer-BioNTech and Moderna COVID vaccines, rely on a new technology that uses the genetic sequence of the antigen to trigger the body into producing antibodies.
The American Red Cross and other major blood collectors say that blood from people who've had mRNA COVID vaccines is safe for transfusion, and that while the vaccine is designed to generate an immune response, vaccine components themselves are not actually found within the bloodstream.
But fears about the new mRNA technology, Della Pietra claims, are making some anti-vaxxers wary of getting necessary medical treatment, and have created a demand for a reliable supply of unvaccinated so-called "safe blood."…
Continue Reading