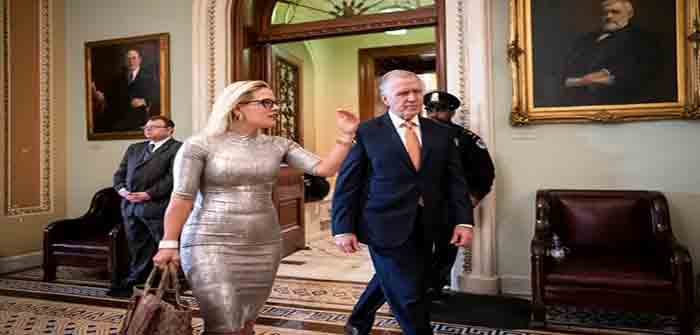 by Morgan Phillips at Daily Mail
The deal would include a pathway to citizenship for two million Dreamers, or DACA recipients who were brought to the U.S. as children
It would also include resources to speed up asylum processing and removal, more funding for border officers, and a one-year extension of Title 42
The deal would need to make it through both the House and the Senate before the end of December
Come January, Republicans will take the House, and Kevin McCarthy has already vowed not to take up immigration reform until he deems the border secure 
North Carolina Republican Thom Tillis and Arizona Democrat Kyrsten Sinema have reportedly reached a framework deal on immigration reform they would like to push through in the lame duck session before Republicans take the House in January.
The deal would include a pathway to citizenship for two million Dreamers, or DACA recipients who were brought to the U.S. as children, resources to speed up asylum processing and removal of those who do not qualify, more funding for border officers, and a one-year extension of Title 42 until new processing centers are up and running, according to the Washington Post. 
The deal concedes the pathway to citizenship and beefed-up due process rights for some immigrants to make Democrats happy and faster removal and strengthened border security for Republicans, though it's not clear if 10 will be on board in the Senate.
The deal would need to make it through both the House and the Senate before the end of December. Come January, Republicans will take the House, and Minority Leader Kevin McCarthy, who is running for speaker, has already vowed not to take up immigration reform until he deems the border secure.
Republicans to his right are even less friendly to such a deal.
'This is a terrible deal that should be a non-starter in the House,'…
Continue Reading