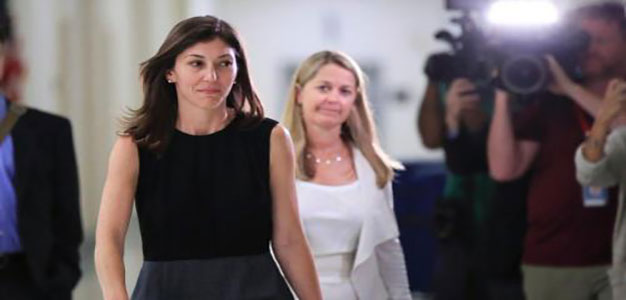 by Sundance at The Conservative Treehouse
Just a brief reminder as you review the decisions in the pre-trial motions for the case against Clinton Lawyer Michael Sussman.
It is worth remembering that Judge Christopher Cooper is married to Amy Jeffries, Lisa Page's lawyer.
(Foreground left) Lisa Page, FBI Lawyer, (Foreground right) Amy Jeffries (Judge Cooper's wife)
Additionally, Judge Cooper and Michael Sussmann both worked in the DOJ together.  When he was selected as judge in the Sussmann trial, Cooper revealed the potential conflict of interest in the event the Durham prosecution wanted him to recuse himself from the case.  Special Prosecutor John Durham did not ask Judge Cooper to recuse himself.
Continue Reading