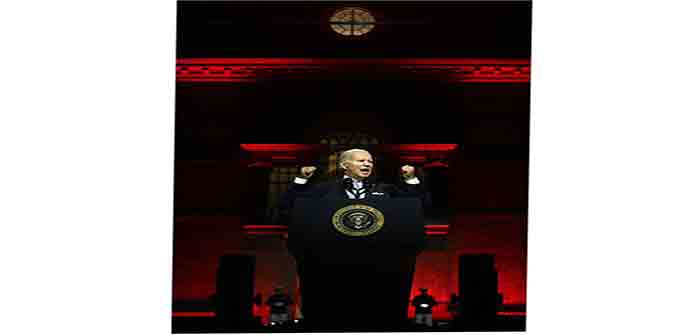 by Victor Davis Hanson at American Greatness
It has been a canard of the Left that "words matter." We are lectured that "hate speech" leads inevitably to street violence.
So how ironic that the Left defames nearly half of America as dangerous "semi-fascist" extremists, white-raged and privileged, ultra MAGA, and guilty of all sorts of thought crimes from secession to civil insurrection? And what is the result?
Does this constant demonization matter? And what are the bitter fruits of such labors? After all, what did Barack Obama long ago mean by "clingers" or once Hillary Clinton by "deplorables"  and "irredeemables"?
What did Joe Biden imply by "dregs" and "chumps" and "semi-fascists"? Or what did the FBI lovebirds really mean by smelly Walmart goers and "hillbillies"? After a point, did not America get this monotonous message?
And what does Joe Biden really mean when he recycles his academic advisors' tired tropes of right-wing insurrectionists threatening the republic?
MAGA Republicans do not respect the Constitution. They do not believe in the rule of law. They do not recognize the will of the people. . . . MAGA forces are determined to take this country backwards—backwards to an America where there is no right to choose, no right to privacy, no right to contraception, no right to marry who you love . . . They promote authoritarian leaders, and they fan the flames of political violence that are a threat to our personal rights, to the pursuit of justice, to the rule of law, to the very soul of this country . . . MAGA Republicans have made their choice. They embrace anger. They thrive on chaos. They live not in the light of truth but in the shadow of lies.
When the president fuels the now familiar old narrative by claiming that 75 million who voted for Donald Trump do not live in the "light of truth" but in the "shadow of lies," and they do not follow "the rule of law," some questions naturally arise.
First, what evidence does the president adduce to prove that 75 million Morlocks in the shadows are liars and avoid the "light of truth" of the Eloi? By what criteria does he use to judge them "semi-fascists"?
Is his proof the 120 days of violent looting, arson, violence, and death in the summer of 2020—virtually green-lighted by mayors, the media, and, yes, the current vice president? Who "fanned the flames of political violence" and were a "threat to the rule of law"?
Does Biden mean half the country is not respecting the Constitution by…
Continue Reading