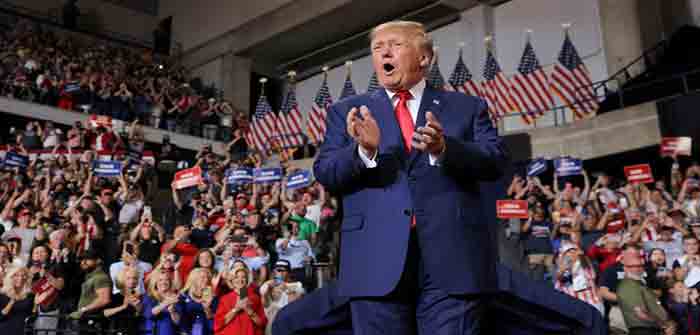 by Collin Rugg at Trending Politics
According to conservative Fox News, former President Donald Trump will be visiting East Palestine next week.
The small town in Ohio has been ravaged by the recent chemical disaster that took place after a train derailment.
The incident was widely ignored by the Biden White House and by the main stream media who looked the other way as locals got sick and saw their animals die from the chemicals.
President Joe Biden has been widely condemned for not taking the situation more seriously despite claiming to be an environmentalists. Some claim that Biden's lack of empathy is due to the fact that East Palestine is 'Trump country.'
"BREAKING: PRESIDENT TRUMP TO VISIT EAST PALESTINE NEXT WEEK," Posobiec tweeted in all caps on Twitter.
BREAKING: PRESIDENT TRUMP TO VISIT EAST PALESTINE NEXT WEEK

— Jack Poso 🇺🇸 (@JackPosobiec) February 17, 2023
Check out what Fox News reported:
EXCLUSIVE: Former President Trump will travel to East Palestine, Ohio next week to visit the area and members of the community as they grapple with the aftermath of the train derailment that led to a large release of toxic chemicals, Fox News has learned.

A source familiar with the former president's plans told Fox News that Trump plans to travel to East Palestine on Wednesday to meet with members of the community.

The source said Trump has a strong relationship with the people of Ohio.
Ohio Senator JD Vance recently visited East Palestine to examine the damage.
Vance, who was sworn in as Senator in January…
Continue Reading