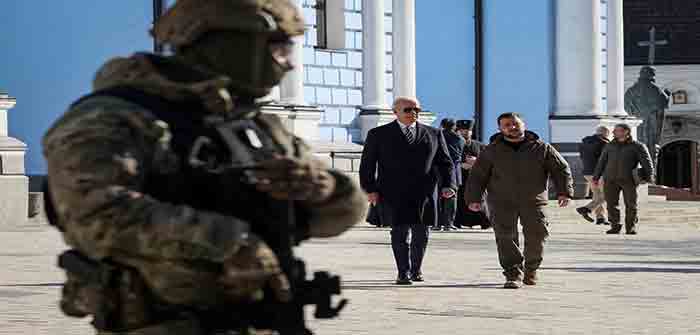 by Lora Ries and RJ Hauman at The Heritage Foundation
SUMMARY
The Biden Administration's $40.1 billion supplemental request is a concerted effort to hold disaster relief funds hostage to obtain more Ukraine war money and prolong the crisis at the southern U.S. border. The border provisions in the supplemental request are a cynical ploy to deceive Americans that the Administration cares about national security, when, in fact, it is ramping up processing, housing, and social services for an endless flow of illegal aliens. If Republicans want to address the border crisis, they must oppose this radical supplemental request, and strengthen and pass the House Department of Homeland Security appropriations bill in September. If Congress has to consider a short-term extension of federal funding through a continuing resolution at the end of the fiscal year, Republicans must refuse to support any such measure that does not include H.R. 2.
KEY TAKEAWAYS
Congress should not consider a separate supplemental request during the ongoing appropriations process.
The Biden Administration is requesting additional border funds because it spent billions of taxpayer dollars to enable, not prevent, a self-inflicted border crisis.
House Republicans must demand inclusion of H.R. 2 as part of any spending agreement that is needed to avert a government shutdown in late September.
The Biden Administration's $40.1 billion supplemental request (Office of Management and Budget, letter to Kevin McCarthy, Speaker of the U.S. House of Representatives, August 10, 2023, https://www.whitehouse​.gov/wp-content/uploads/2023/08/Final-Supplemental-Funding-Request-Letter-and-Technical-Materials.pdf (accessed August 29, 2023))  centered on Ukraine and disaster relief is a non-starter. It is a massive spending increase that would evade budget caps and complicate an already contentious battle over funding the federal government.
While most congressional Republicans recognize that the White House is trying to force them to choose between their support for disaster victims and sending additional taxpayer money to Ukraine, given eroding public support for the war, many observers are ignoring an additional request in the same supplemental for nearly $4 billion to "manage the Southwest border safely and effectively." In other words: to entice, guide, process, transport, house, and provide social services to even more illegal aliens with the assistance of open-borders nongovernmental organizations (NGOs). The Biden Administration has been paying NGOs, such as Catholic Charities, Lutheran Immigration and Refugee Services, Church World Services, and others, billions of dollars in taxpayer grants to receive illegal aliens from the Department of Homeland Security (DHS) and transport, house, and provide them with myriad other services. President Joe Biden is now back for more money for these NGOs.
Alarmingly, Senator Patty Murray (D–WA) and Senator Susan Collins (R–ME), Chair and Vice Chair of the Senate Appropriations Committee, respectively, put out a joint committee statement essentially endorsing the border component of the Biden Administration's supplemental request—billions that will be misspent—saying that "critical resources to stop the flow of fentanyl and address needs at the border" are important priorities  (Statement, "Senators Murray and Collins Issue Statement on Biden Administration Supplemental Funding Request," U.S. Senate Committee on Appropriations, August 11, 2023, https://www.appropriations.senate.gov/news/majority/senators-murray-and-collins-issue-statement-on-biden​-administration-supplemental-funding-request (accessed August 29, 2023). The Senators added that they are "committed to craft a bill that will pass the Senate."
Putting the irresponsible connection of Ukraine with disaster relief aside, the White House is effectively laying a trap for funding that it claims addresses border security and fentanyl but does nothing of the kind. It is a trap that lawmakers, congressional staff, and American taxpayers should not fall into.
Supplemental Request Highlights
Following are highlights of the supplemental request that pretends to address the border crisis:
$1.4 billion for U.S. Customs and Border Protection (CBP), centered on "border management" (processing) as well as shelter and social services for illegal aliens released from custody. This figure includes a whopping $600 million to be transferred to the Federal Emergency Management Agency (FEMA) for open-borders NGO grants, as well as $606 million for the CBP to reimburse the Department of Defense for "border security support."
$759 million for U.S. Immigration and Customs Enforcement (ICE)—not to enforce the law in the interior of the country, but mainly to "respond to migration surges" along the border, such as transporting aliens towards release into the U.S.
Nearly $800 million for various agencies to research and target illicit drugs, such as fentanyl, and expand access to addiction care. While acceptable at face value, this provision mistakenly funds downstream effects of an open border. Shutting down the border would prevent throwing good money after bad.
$100 million for the Department of Health and Human Services—through September 2025—to give NGOs grants for "culturally and linguistically appropriate services, including 'wraparound' services," housing, medical assistance, legal assistance, and more for illegal aliens entering the U.S. The Administration's explanatory language states that this money would be used to provide Ukrainians paroled into the U.S. resettlement assistance, but nothing in the Administration's suggested statutory language mentions Ukrainians. Rather, the supplemental request seeks to bind the next Administration into paying NGOs to facilitate mass illegal immigration. This request also seeks an extension of the Additional Ukraine Supplemental Appropriations Act of 2022 for public benefits such as the Supplemental Nutrition Assistance Program, Medicaid, and Supplemental Security Income, as well as refugee resettlement benefits, to Ukrainians arriving in the U.S. during fiscal year 2024.
$700 million for the State Department to provide migration assistance to Ukrainians in Ukraine and in nearby countries.
$26 million for the State Department—through September 2025—to "address irregular migration within the Western Hemisphere." Nearly half of this amount would go to State's Bureau of Western Hemisphere for oversight, and the remaining $14 million would go to the Safe Mobility Offices in Colombia, Costa Rica, Ecuador, and Guatemala and for messaging activities. The supplemental request also seeks another $532 million for the State Department's Migration and Refugee Assistance account to support "safe, regular, and humane migration management" in the Western Hemisphere. This includes the establishment of the Safe Mobility Offices, which "provide protection screening and increase access to lawful pathway options to migrate where they are."3

Office of Management and Budget, letter to Kevin McCarthy, Speaker of the U.S. House of Representatives.

In other words, this is an infrastructure to schedule their illegal immigration to the U.S. using the CBP Mobile One app and be mass paroled through our ports of entry. The Administration claims these activities would "reduce irregular migration" and "support migrants to access protection and other lawful pathways outside of refugee protection," but after 31 months of evidence, this money would only encourage more illegal immigration to the U.S.

$50 million for the Department of Labor's Wage and Hour Division to "protect" unaccompanied children (UAC) who are encouraged to enter unlawfully and $50 million to Labor's Office of the Solicitor to enforce child labor laws and prosecute companies alleged to be exploiting child workers. Like fentanyl research and targeting above, child labor violations are a downstream effect of policies enticing and rewarding unaccompanied children who cross the border. Ending the UAC pipeline ends child labor violations.
$36 million for the Justice Department's Executive Office of Immigration Review to accelerate the hiring of additional immigration judges—many of whom will be mass-migration attorneys hand selected by Department of Justice political appointees. Simply hiring more immigration judges would not reduce court abuse that deportable aliens pursue through multiple continuances, motions, and appeals to spend more time in the United States. Congress should authorize immigration judges with summary judgment to quickly dismiss frivolous cases and significantly limit administrative and judicial review.
New Illegal Alien Housing and Social Services Program Under ICE…
Continue Reading