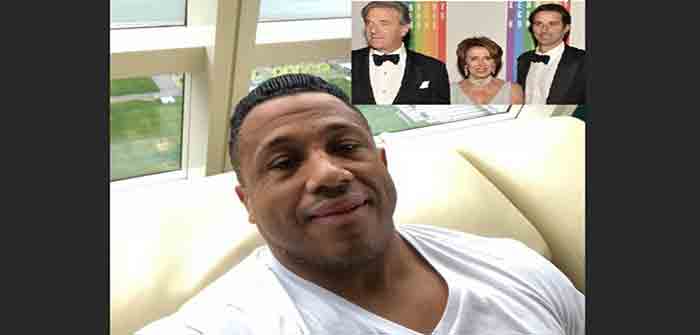 by Patrick Howley at National File
Asa Saint Clair, the close associate of Nancy Pelosi's son Paul Pelosi Jr., has been convicted of wire fraud for his role in running a scam called the World Sports Alliance, which Paul Pelosi Jr. represented in the country of Ukraine. Saint Clair now faces 20 years in prison when he goes up for sentencing in July, giving him plenty of time to flip on his associates. The Campaign Show with Patrick Howley on Thursday discussed Asa Saint Clair's conviction.
Damian Williams, a U.S. Attorney, stated, according to the Department of Justice: "As a jury has now found, Asa Saint Clair used lies to defraud everyday people out of their hard-earned money by promising them guaranteed returns if they invested in a IGObit, a digital currency he claimed the World Sports Alliance was developing.  Saint Clair touted the WSA as working closely with the UN to promote the values of sports and peace for a better world, while in reality promoting only the balance of his bank accounts."
National File has been leading the way in reporting on the Pelosi family's Ukraine dealings. As National File reported in September: The criminal trial against Asa Saint Clair, a friend and business associate of Nancy Pelosi's son Paul Pelosi Jr., formally moved into the discovery phase in the U.S. District Court for the Southern District of New York on September 21. The wire fraud case centers on Saint Clair's dealings as head of the World Sports Alliance, which Paul Pelosi Jr. represented on a business trip to Ukraine. What will discovery turn up in this case? (READ: Pelosi's Son Tied To Fraud Ring That Tried To Sell Nancy's Solar Tax Credits For Millions…Pelosi Jr. Associates Have Been Interviewed By The FBI). As Manhattan U.S. Attorney Geoffrey Berman previously announced, "As alleged, Asa Saint Clair used World Sports Alliance, a sham affiliate of the United Nations, as a vehicle to defraud lenders" by offering them IGObit, a fake cryptocurrency. Records show that Paul Pelosi Jr. promoted IGObit.
As we reported: PELOSI JR. DOES BUSINESS IN UKRAINE WITH ACCUSED FRAUDSTER: House Speaker Nancy Pelosi's son Paul Pelosi Jr. visited Ukraine in 2017 to meet with government officials in connection to a business initiative. Now, National File has learned from overseas that Pelosi Jr. was in Ukraine representing his business efforts with Asa Saint Clair, a close Pelosi friend and self-identified business associate who has been charged by the Department of Justice for wire fraud. Asa Saint Clair is under house arrest facing twenty years in prison.
Video evidence proves that Pelosi Jr. was in Ukraine representing his Corporate Governance Initiative (CGI) and promoting his endorsement from the World Sports Alliance, which shared leadership staff with Pelosi Jr.'s company CGI.
The World Sports Alliance was Asa Saint Clair's front group that is accused of running a criminal cryptocurrency scam known as "IGObit" as well as international mining operations including in the diamond-rich, wartorn Central African Republic.
WORLDWIDE SCAM…
Continue Reading