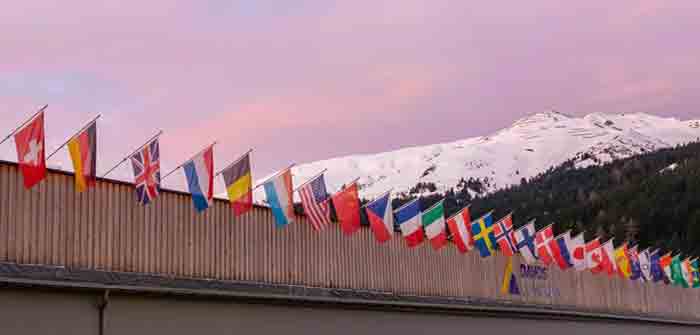 Davos, Switzerland. Home to the World Economic Forum (WEF). Every year, the world's ruling class gather around this secluded Swiss mountain retreat to help each other scheme and plan on how to further exert tyrannical control over the lives of free individuals. This year, they're accomplishing this through their plan for "The Great Reset," bolstered by the global pandemic.
Where the Ruling Class Gather To Scheme with Each Other
But don't be fooled, just being massively rich isn't enough to get you a seat at Davos. Attendance is by invitation only. You first have to be a member of the World Economic Forum, which will run you somewhere between $60,000 and $600,000. On top of that, you have to pay an additional fee of more than $27,000 per person to get into the conference.
At the conference, attendees are separated by their badge colors. Those who carry the white badges are granted access to all areas, including secret meeting sessions. Sessions open only to white badges are off-the-record, so the public will never know what goes on behind the doors of the discussion.
It's easy to see how the secrecy of Davos could incite many conspiracy theories, but it's really not that exciting. Davos is just another typical ploy often carried out by the ruling class' obsession with running other people's life. Think of it like the Congress for the Communist's Third International, where attendance was exclusive only to card-carrying delegates, because that's essentially what Davos is.
What Is "The Great Reset"?
According to an article on The Hill, "The Great Reset" is a plan "by the planet's most powerful business leaders, government officials and activists [who] announced a proposal to 'reset' the global economy. Instead of traditional capitalism, the high-profile group said the world should adopt more socialistic policies, such as wealth taxes, additional regulations and massive Green New Deal-like government programs."
And how does the global oligarchy intend to carry out "The Great Reset"? They're seizing the global pandemic as the perfect opportunity to roll out this plan. While most of the ordinary citizenry are languishing in government-created poverty due to the mandatory shutdowns, the pompous Davos elites are busy exploiting the pandemic as an opportunity to push their Marxist agenda on everyone else.
World Economic Forum, Davos, and "The Great Reset"…
Continue Reading