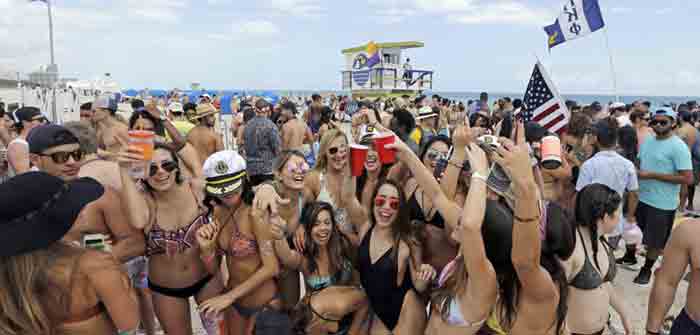 by Tyler Durden at ZeroHedge
The City of Miami Beach declared a curfew would start at 1201 ET on Thursday and expire Monday at 0600 ET following a series of shootings, street fights, and stampedes, according to CNN.
Miami Beach's Democratic mayor Dan Gelber imposed a state of emergency and curfew for South Beach following a series of shootings that left five hospitalized.
Miami Beach Police Chief Richard Clements said one incident occurred when "someone walked into the crowd with a firearm and randomly shot at people."
"We are so lucky there wasn't a more significant loss of life associated with these events because they were random. The people that were injured as a result of this had nothing to do with any kind of confrontation at all but basically were in the wrong place at the wrong time," Clements said. 
Spring Break lasts one week for US colleges and usually falls in the last two weeks of March. Miami Beach is one of the most popular destinations as thousands of youngsters have gathered in the area known for its beaches and nightclubs.
Gelber noted 371 police worked over the weekend. "Officers are EXHAUSTED. The party needs to end. City officials must take immediate and firm action to ensure the safety of officers and residents," he tweeted.
He told the NYPost that officers are faced with massive, violent crowds, and they can only do so much until overwhelmed.
Some of the chaos was posted on Twitter:…
Continue Reading