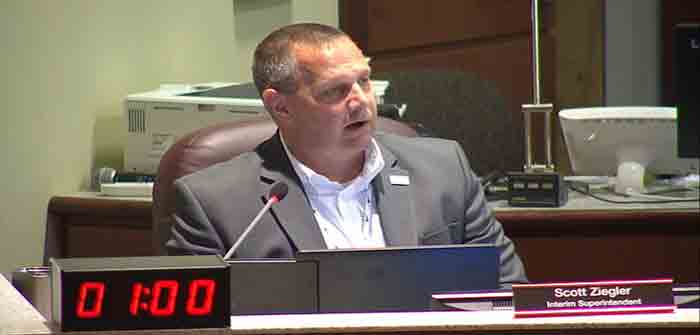 by Jennifer Smith at The Daily Mail
Furious parents are demanding the resignation of Loudoun County Schools Superintendent Scott Ziegler who claimed on June 22 that the school had received no reports of sexual assaults by trans kids in bathrooms, four weeks after a girl told teachers she'd been raped in the bathrooms by a male 'in a skirt'.
On June 22, Ziegler, who earns $295,000 as the school superintendent – a job he took over in January – told a crowded school board meeting: 'To my knowledge, we don't have any record of assaults occurring in our restrooms.
He then went further, calling it a debunked theory that a transgender person is more likely to sexually assault a cisgender person, and that the 'predatory trans person does not exist'.
'I think it's important to keep our perspective on this, we've heard it several times tonight from our public speakers but the predator transgender student or person simply does not exist,' he said.
Four weeks earlier, Scott Smith's 15-year-old daughter told teachers she was raped in the girls' bathrooms at Stone Bridge High School in Leesburg, Virginia, by a male student who had been allowed into the bathroom because he told staff he identified as female.
The boy was arrested in July – a month after the meeting – but he went on to allegedly sexually assault another girl, at a different school in the same district, in October.
He is now in juvenile detention awaiting a court appearance on all charges, which include sexual battery and forcible sodomy…
Continue Reading