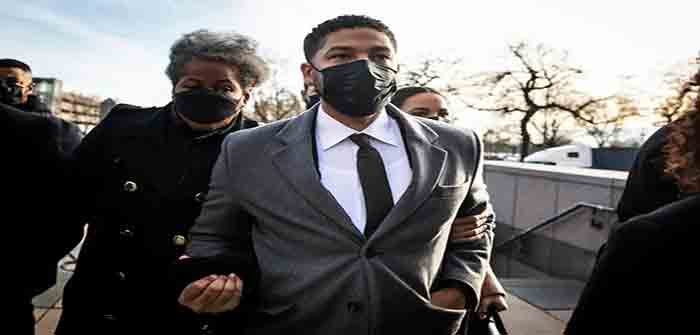 by Andy Grimm and Matthew Hendrickson at Chicago Sun Times
Olabinjo Osundairo said he did not know what he was getting into when his younger brother, Abimbola, pulled up outside his Lakeview apartment with Jussie Smollett in January 2019.
On the witness stand some three years later, the aspiring actor said he climbed into the back seat of Smollett's car and received a pitch for a role even he found bizarre: faking a hate crime against the openly gay, Black actor.
"Jussie went on to ask me first if he can trust me and I told him of course he can," said Olabinjo, who had prepared nutrition plans for the actor, who had befriended his brother.
"He had this crazy idea that two MAGA Trump supporters attack him so he can get the footage and put it on social media so he could show to 'Empire' studio."
Thursday marked the fourth day of Smollett's trial for allegedly making false reports to police about the January 2019 attack, which touched off a massive police investigation and quickly became a subject of national attention. Olabinjo Osundairo backed up the testimony of his younger brother, who spent more than six hours on the stand over Wednesday.
The older Osundairo's testimony largely mirrored the description of the plan and the 2 a.m. assault a few days later near Smollett's Streeterville apartment. Smollett, he said, scripted even the racist, homophobic slurs he wanted the brothers to shout as they set upon him. Olabinjo was to drape a noose over Smollett's head, but Abimbola, who is better acquainted with the actor, was to handle the task of roughing Smollett up.
"I believe I joked around that I should be the one to do it, but he said that he didn't think he could trust me to hold my punches back," Osundairo testified…
Continue Reading