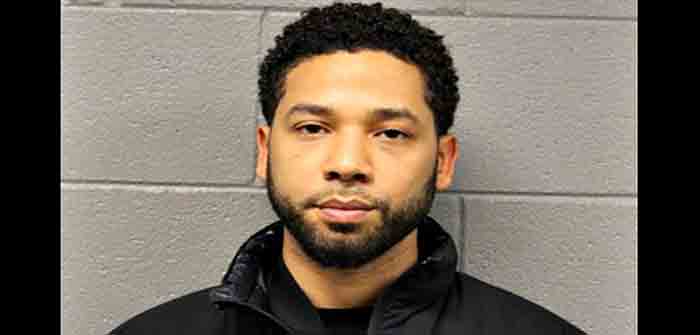 by Andy Grimm and Matthew Hendrickson at Chicago Sun Times
Jussie Smollett was convicted Thursday of staging a hate crime against himself and lying about it to Chicago police.
Smollett had no reaction when the verdicts were read in Cook County Judge James Linn's courtroom. The "Empire" actor stood as the jury entered and until the verdicts were fully read, his hands clasped in front of him.
The jury, made up of six women and six men, only one of whom was Black, needed more than nine hours to reach its verdicts after a trial that spanned seven days.
Smollett, 39, was charged with six counts of disorderly conduct for hiring a confidant and his brother to assault him on a frigid night in January 2019, scripting even the racial slurs and "MAGA" slogan they were to shout as they attacked.
Smollett was found guilty on five counts, each a time he reported the attack to a Chicago police officer. Smollett was acquitted on the sixth count, which was for lying to Detective Robert Graves on Feb. 14, 2019 during the actor's second interview with investigators.
A few of Smollett's family members shook their heads slightly when the verdicts were read.
Linn thanked the jury for its service.
"You were the people chosen by both sides to give a fair trial," Linn told the jurors. "There is nothing more difficult that American society asks [of] fellow citizens than to judge a fellow citizen … not only is it difficult it is something that will stay with you awhile."
The jury foreperson shut her door in suburban Burbank when questioned about the verdicts later Thursday night. "No comment, no comment," she said.
Two other female jurors also declined comment.
Flanked by his mother and siblings, Smollett briskly walked out of the Leighton Criminal Courthouse and into an awaiting black SUV, ignoring a throng of reporters.
Lead defense attorney, Nenye Uche, said Smollett was "disappointed" but that he and his legal team were "100% confident" the verdicts would be overturned on appeal, although Uche declined to list any of the "many" issues with the high-profile case.
"The verdict is inconsistent," Uche only said. "You cannot say Jussie is not lying for the same exact incident."
Special Prosecutor Dan Webb said he was "proud" that the jury didn't buy Smollett's "completely ridiculous story to explain his misconduct."
"Defendants do not have the right to go in front of a jury and lie under oath," Webb said Thursday night.
Smollett's crime, making false statements to police investigating the hoax attack — a team that would grow to some two dozen officers, who put in a purported $130,000 worth of overtime — is a low-level felony that would likely result in a sentence of probation for the fallen star.
"Twenty-six Chicago police officers spent 3,000 hours of time, costing this city well over $100,000, for a fake crime that never occurred," Webb said. "And by the way. a fake crime that denigrates what a real hate crime is."
Police officers are often accused of sweeping "things under the rug," but when Smollett reported that he was attacked, "They took it seriously, they believed he was a victim of a crime and they worked so hard ….," Webb said.
"The work they did was extraordinary."
Webb took on the case for free after a judge appointed him to investigate the circumstances that led to the Cook County state's attorney's office dropping the initial charges against Smollett in March 2019.
Webb said he felt the evidence against Smollett was "overwhelming" after reviewing the case and re-indicted the actor on the charges he ultimately faced in the two-week trial.
Though Webb found no evidence of criminal misconduct by State's Attorney Kim Foxx and her staff in the office's decision to drop the charges, he accused the county's top prosecutor of "substantial abuses of discretion."
Webb's full report on his finding remains under seal and has not been released to the public.
On Thursday, Webb declined to comment on what the trial's outcome said about the state's attorney's office's decision to drop the charges, saying "what happened speaks for itself."
A state's attorney's office spokeswoman wrote in a statement Thursday: "The Jury has spoken. While this case has garnered a lot of attention, we hope as a county we can move forward. At the Cook County State's Attorney's Office we will continue to focus on the important work of this office, prioritizing and prosecuting violent crime."
The special prosecutors' case rested heavily on…
Continue Reading