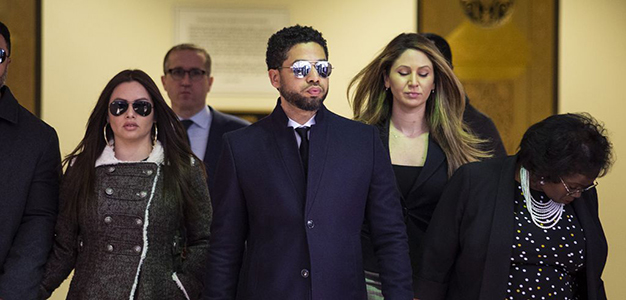 by Sundance at The Conservative Treehouse
The most notorious hate crime hoaxer in the past few years took the witness stand in his own defense to proclaim he didn't do anything wrong, when he set up his own fake racial attack using two brothers Abimbola and Olabinjo Osundairo.
The two brothers testified to being paid $3,500 to pull-off the most transparent and goofy hate crime in recent memory. All of the witness statements align with CCTV footage, cell phone records and other evidence that showed the trio even rehearsed the late night fake crime. There is not a shred of evidence that counteracts the entire fiasco as a ridiculous hate crime hoax. Yet for some insufferable reason this case reached a courtroom.
The police knew it was a hoax, yet they spent 1,500 hours investigating it. The two pretend attackers admitted it was a hoax, and gave details of how it was done. The direct and circumstantial evidence all shows it was a hoax. Everything about the entire series of events proves it was a hoax crime, and yet Jussie Smollet claims it was real.
This is silly.
Closing arguments are expected tomorrow, and if the jury needs to debate this one, well, the justice system is a parody of itself.
CHICAGO – A Cook County jury will likely begin deliberating Wednesday in actor Jussie Smollett's trial on charges he lied to police about being the victim of an alleged racist and homophobic attack nearly three years ago.

The defense rested its case Tuesday afternoon after the actor spent a tense two hours on the stand, at times getting testy under questioning from Special Prosecutor Dan Webb.

Judge James Linn released the jury around noon, telling them they would return Wednesday to hear closing arguments and then to weigh a verdict on the six counts of disorderly conduct the actor faces.

During testimony that spanned two days of trial, Smollett forcefully and repeatedly denied that he was involved in planning an alleged hoax attack in January 2019 on himself with brothers Abimbola and Olabinjo Osundairo. The pair testified last week that Smollett masterminded the attack as a publicity stunt. (read more)
In my humble opinion,…
Continue Reading