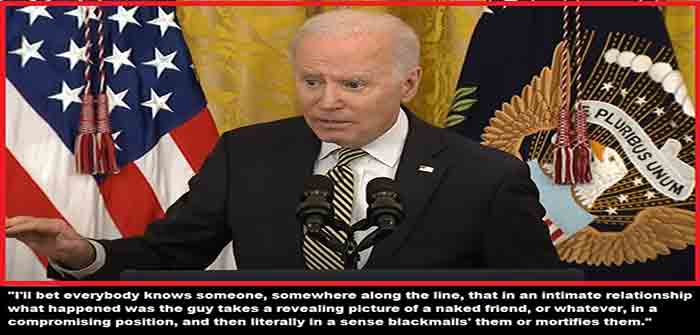 by Sundance at The Conservative Treehouse
This is really weird folks, and not just the part I am highlighting here.   In a very creepy public presentation today by Joe Biden highlighting the extension of the 'violence against women act', Biden went through the stages of shouting then whispering as he delivered remarks about abuse and exploitation based on gender.
In part of his remarks, and trust me, the entire remarks were seriously disturbing, Joe Biden said, "I'll bet everybody knows someone, somewhere along the line, that in an intimate relationship what happened was the guy takes a revealing picture of a naked friend, or whatever, in a compromising position, and then literally in a sense blackmails them or mortifies them."
WATCH: 26:55 prompted:
Maybe it's my own naiveté, but I don't know a single person this would relate to.
Perhaps this says something about the culture in/around Washington DC that sexploitation is such a familiar topic.  Regardless, if these comments were in his teleprompter, that tells us a lot about the people surrounding the office of the president, and it is not good…
Continue Reading