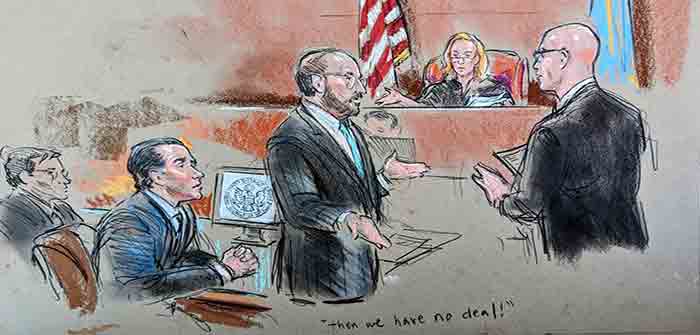 by Katelynn Richardson at Daily Caller
Hunter Biden's plea deal, which would have had him plead guilty to two misdemeanor tax charges and enter a probation agreement for one felony gun charge, fell apart under Judge Maryellen Noreika's pointed questions at the Wednesday hearing, which legal experts said revealed it was better for Biden than initially known.
"They were going to protect President Biden by sweeping under the rug today in Delaware all the Biden family crimes," Mike Davis, founder and president of the Article III Project, told the Daily Caller News Foundation.
Julianne Murray, an attorney representing The Heritage Foundation, told the DCNF the judge "did a really good job of sniffing out that there was stuff that was not being said out loud."
Legal experts slammed the Department of Justice's handling of Hunter Biden's "sweetheart" plea deal Wednesday after it fell apart in court under a judge's questioning, which revealed it to be better for Biden than initially thought.
Hunter Biden plead not guilty Wednesday after Judge Maryellen Noreika made a rare move and refused the plea deal between the Department of Justice (DOJ) and his legal team, which she had raised concerns about in part due to its "broad immunity" for potential future charges, CNN reported. The initial deal would have had Biden plead guilty to two misdemeanor tax charges and enter a probation agreement for one felony gun charge.
Julianne Murray, an attorney representing The Heritage Foundation, which filed an amicus brief in the case Tuesday, was in the courtroom during the hearing. She told the Daily Caller News Foundation that the judge "did a really good job of sniffing out that there was stuff that was not being said out loud." (RELATED: Hunter Biden Changes Plea Deal To Not Guilty)
"My sense was everybody just wanted this to just go away," she said. "Now they know it's not going away."
While it's not uncommon for plea deals to offer immunity limited to conduct "directly related" to the offense, Murray told the DCNF the offer given to Hunter Biden was "not limited in scope" and included "all of the allegations of conduct that are still being investigated," though it was verbally amended to "limit the scope to gun, drugs and taxes from 2014-2019."
"Whether the whole deal is off the table or not, you just can't tell," she said.
Mike Davis, founder and president of the Article III Project, told the DCNF plea agreement would have caused "too much of a political backlash" if the terms revealed in court were written down…
Continue Reading