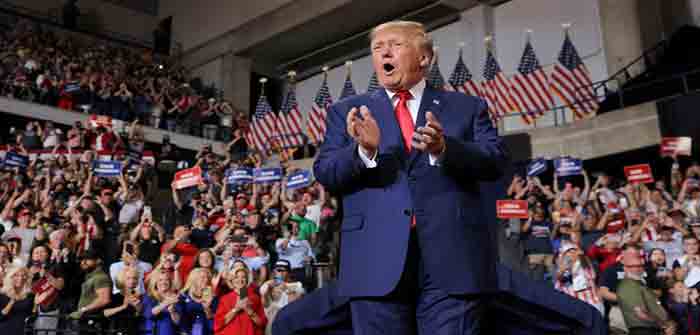 by Katelynn Richardson at Daily Caller News Foundation
A group of 18 Republican state attorneys general argued Tuesday night that former President Donald Trump's gag order undermines their citizen's interest in "hearing from major political candidates" in the coming 2024 election.
The states, led by Iowa Attorney General Brenna Bird and West Virginia Attorney General Patrick Morrisey, filed a friend-of-the-court brief with the Court of Appeals for the District of Columbia backing Trump's appeal of the gag order in his 2020 election case. District Judge Tanya Chutkan "overstepped" her role when she imposed the order, the states argue.
"As administrators of free and fair elections, we have an interest in ensuring no illegal prior restraint is entered against any major political candidate," the states wrote. "Indeed, our citizens have an interest in hearing from major political candidates in that election. The Order threatens the States' interests by infringing on President Trump's free speech rights."
Chutkan's order restricts Trump from making public statements targeting Special Counsel Jack Smith or his staff, the defense counsel or their staff, court staff and "any reasonably foreseeable witness or the substance of their testimony" in the case. A carve-out included by Chutkan clarifies that the order "shall not be construed to prohibit Defendant from making statements criticizing the government generally."
"The judge's approach for the gag order ignores…
Continue Reading