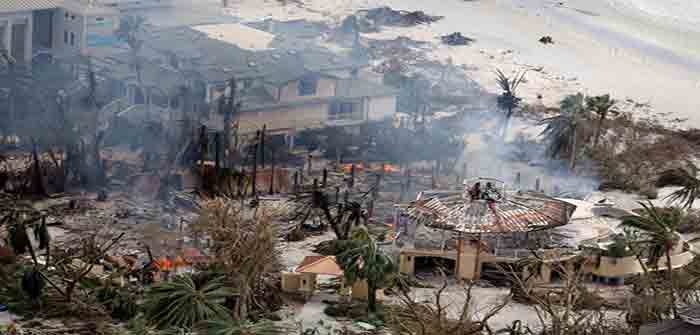 by Sundance at The Conservative Treehouse
Hopefully this hotspot holds up.  First things first, we are surrounded by the grace of a loving God, and we are thankful.
To begin updating day #2 on the ground in Southwest Florida (SWFL) allow me to please remind everyone to take these storms seriously and take all the advanced preparations needed to protect yourself and your family.  You can never overprepare.   Additionally, if you did evacuate from the area, stay where you are.  There's no need to come back into the recovery zone and there are virtually no utilities (electricity, water) operating in most areas.
Working today with a search and recovery team from Fort Walton Beach, Florida, there are multiple agencies from around the Southeast sending resources.  We are incredibly grateful, and every resource is a blessing.
Day 2, while efforts continue, there are parts of the barrier islands (Sanibel, Pine Island, Matlacha and Fort Myers Beach) that are still inaccessible by anything other than air.  There is an evacuation ferry operation running every 90 minutes from Sanibel (West side of where causeway used to be) to pull people from the island. 10am – 5pm
Matlacha (North end of Pine Island) is also a boat rescue operation after the bridge failed.
Incredibly, the historic Sanibel Lighthouse did survive the storm albeit with damage.  The lightkeepers house is gone as are all the buildings around the Southern tip of the Island, but the Lighthouse is standing.  There's a metaphor and a message in that outcome.
Unfortunately, there are many people missing, and frantic out of state families looking for their loved ones.  Hopefully, those missing were just last-minute evacuees that don't know people are looking for them, and/or people with no way to communicate their status.  Local radio stations are broadcasting names and addresses of missing persons in the hope that people can call in with information.  This is why a communication plan is so critical for anyone in an extreme weather impact zone.
Search and rescue units are still working throughout Southwest Florida by air, boat and house-to-house searches.  Some power and some water services have returned to the Eastern side of the impact zone, but as you go west (toward the coast) the power and water services are in much worse shape.  [Tip: This is why garbage cans full of water are a part of the proactive planning.  You can hydrate with bottled water, but you cannot clean without a stored potable water supply.]
The origination and transfer stations for electricity have been hit hard.  There is no reason for linemen and pole diggers to be in the western zones because there is no infrastructure to trigger the origination of electricity.  That's why power will return in a systematic way from East (inland) to West (coastal).  The thousands of power company employees are working on eastern impact areas where their efforts can restore power, while the longer engineering work of rebuilding transfer stations is happening in the west.  Power will likely be out for several weeks in multiple areas.
Debris removal is about 50% throughout the zone.  By 'removal' I mean…
Continue Reading