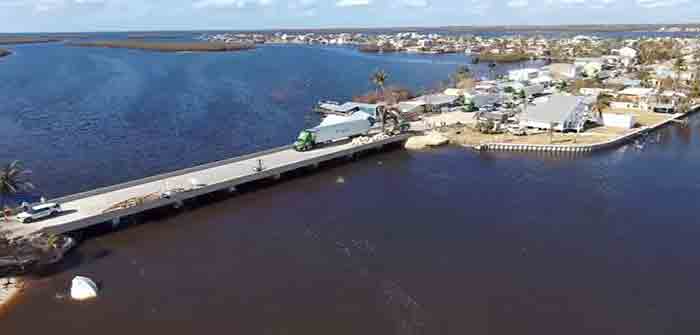 by Sundance at The Conservative Treehouse
It was a week ago Wednesday, around 1:00pm, when Hurricane Ian first approached the coast of southwest Florida.  In the aftermath, once again the coastal topography has changed.
Incredibly, rescue workers are still going through rubble on Fort Myers Beach, Sanibel Island, Captiva Island, Pine Island and Matlacha while recovery operations continue in Fort Myers, Cape Coral, Arcadia, Punta Gorda and Port Charlotte.  Approximately 50% of Lee and Desoto counties are still without power and water.
The closer to the SWFL coast, the more devastating the infrastructure is damaged.  However, the inland areas were also heavily impacted by wind damage and historic flooding.  Hurricane Ian left a wide swath of chaos in his slow and sizeable wake.
On a positive note, there are fewer helicopter flights crisscrossing overhead, which would indicate most of the barrier islands have been searched and residents rescued in one of the largest air mobilizations in Florida hurricane history.  The flights seem more focused on delivering personnel, equipment and supplies for recovery efforts.
The rednecks and roughnecks also delivered a remarkable accomplishment today, opening a temporary bridge to Pine Island.   A few days before Governor Ron DeSantis announced the State DOT effort to help build the temporary bridge, locals from Honc Marine were already in 'git r done' mode.
Incredibly a week after Hurricane Ian took out the bridge connecting Pine Island to Cape Coral, the temporary bridge was finished and five semi tractors/trailers from Publix Supermarket were first to cross into Pine Island with relief supplies. {Direct Rumble Link}
WATCH:…
Continue Reading