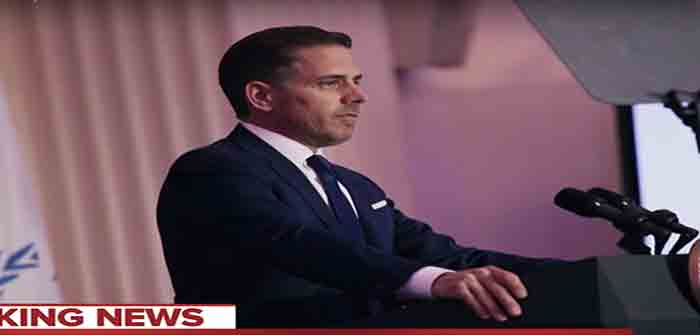 by Seamus Brunner and John Solomon at Just the News
In the shadows of Russia's first invasion of Ukraine in 2014, Hunter Biden and his business partners embarked on an aggressive campaign to score millions of dollars in "life changing" business with oligarchs in both countries who had an interest in his father's policymaking business, according to emails and court records obtained by Just the News.
President Joe Biden's son and his associates targeted Russian oligarch Yelena Baturina — who eventually was sanctioned by the U.S. a few years later in 2018 — for as much as $200 million after helping her get a bank account set up in America, the emails show.
Hunter Biden and his associates even arranged for Baturina and her husband, an ex-Moscow mayor, to meet with then-Vice President Joe Biden at an intimate dinner in Washington in 2015.
At the same time he and his team courted Baturina, Hunter Biden was securing lucrative board positions and consulting deals with Ukrainian oligarch Mykola Zlochevsky, a man whose company, Burisma Holdings, the United States and Great Britain wanted investigated for corruption.
The delicate balancing act of cashing in on both the Russian and Ukrainian sides of the conflict left the younger Biden and his partners acutely aware that Moscow's military annexation of Ukraine's Crimean region in 2014 was a wild card that could scuttle the success of their business pursuits, the memos show.
"Just spent two hours on the phone with Kiev. I am confident at this point that this is a good if not life changing deal if the Uk [Ukraine] doesn't collapse in the meantime," now-convicted Biden business partner Devon Archer wrote Hunter Biden in one particularly candid assessment of their strategy in mid-April 2014.
Eventually, another of Hunter Biden's convicted business associates, John Galanis, would declare in a sworn affidavit to a federal court that he and his son Jason became aware of a strategy by Hunter Biden-related companies of promising oligarchs "quid pro quo" access to Washington in return for their dollars.
"Jason Galanis gave his interest in Burnham/Wealth Assurance to Archer on the prospect that Archer and Hunter Biden would continue to attract foreign oligarchs on the promise of high level political contacts," John Galanis swore in a January 2020 affidavit that unequivocally referred to the scheme as "political influence peddling."
You can read the Galanis affidavit here:…
Continue Reading