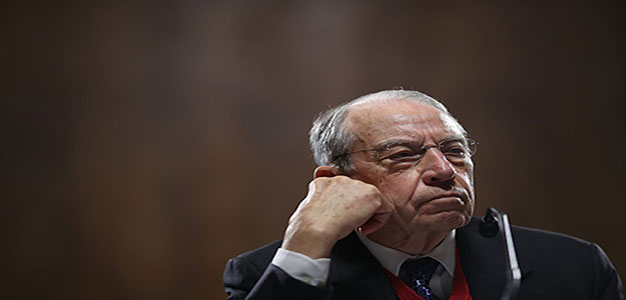 by Jerry Dunleavy at Washington Examiner
A top Senate Republican with a long history of advocating whistleblowers is being shut out from the Hunter Biden IRS whistleblower investigation by a Democratic Senate chairman despite the whistleblower wanting the GOP senator on the case.
Sen. Chuck Grassley (R-IA), a member of the Senate Finance Committee and a co-chairman of the Whistleblower Protection Caucus, is being denied access to the investigation by Sen. Ron Wyden (D-OR), the chairman of the Senate Finance Committee, the Washington Examiner has learned.
POLITICAL AND MARKET PRESSURE INCREASES TO RAISE DEBT CEILING
Lawyers for the IRS whistleblower sent letters to Congress on April 19 and May 15 providing details about their client's protected disclosures alleging wrongdoing related to the federal investigation into President Joe Biden's son. The attorneys have gone out of their way in both letters to include Grassley despite the Iowa Republican not being a current chairman or ranking member for a committee with specific jurisdiction regarding the tax code, but he is a leader of a Senate caucus dedicated to protecting whistleblowers.
The IRS whistleblower's legal team told the Washington Examiner on Monday, "Naturally, we addressed letters to Sen. Grassley because he is co-chair with Sen. Wyden of the Whistleblower Protection Caucus as well as a senior member and past chair of both the Finance and Judiciary committees. Also important, though, is that he is more trusted than any other public official by whistleblowers to give them air cover regardless of the political implications and keep fighting to protect them when others cut and run. What whistleblower wouldn't want Chuck Grassley in on their case?"
Section 6103 of the Internal Revenue Code requires the chairman of congressional tax committees to grant access to sensitive tax return information, and Wyden has refused to provide that access to Grassley or his team.
Grassley spokesman Taylor Foy told the Washington Examiner the IRS whistleblower's lawyers…
Continue Reading