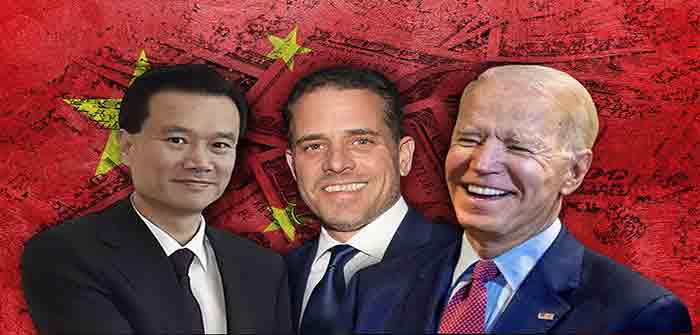 by John Solomon at Just the News
House Republican investigators are releasing new evidence they say shows Hunter Biden may have been compromised by Chinese intelligence through one of his business associates, and slamming the FBI for exhibiting a "troubling" lack of curiosity about the first family's foreign business dealings.
Rep. James Comer, the top Republican on the House Oversight Committee, demanded Wednesday that FBI Director Christopher Wray turn over evidence of what it has done to investigate concerns that former Hunter Biden business assistant JiaQi "Jackie" Bao had ties to communist China before she helped facilitate  possible sales of U.S. gas interests to the Chinese company CEFC on the Biden family's behalf.
"Documents obtained by Committee Republicans reveal Hunter Biden's business partner and close personal associate was linked to the Communist Party of China (CCP), her employer before the Biden family. JiaQi "Jackie" Bao provided Hunter insight into purchasing liquified natural gas reserves in the United States to sell to China, had access to the Biden family's financial information, and liaised with CCP-affiliated agents on the Bidens' behalf," Comer wrote.
"After infiltrating the Biden family, Bao urged Hunter to encourage Joe Biden to run for president months before he announced and then supplied the Biden family campaign advice related to China," he added. "Media reports and documents reviewed by Committee Republicans suggest that Bao and Hunter's relationship extended beyond professional obligations—a common tactic employed by Chinese intelligence agents.
"Committee Republicans are concerned Hunter Biden may have been compromised by the People's Republic of China (PRC) and foreign intelligence services (FIS)," the letter added. "Due to the interconnected nature of the Biden family's finances and business dealings, this type of access would jeopardize U.S. national security.
Comer, R-Ky., demanded Wray turn over all evidence the FBI has about Hunter Biden's dealings with Bao and evidence of what the FBI did to investigate the relationship and others the Biden family had with Beijing.
"In addition to the Chinese government through Bao, it is likely that Hunter Biden may have been compromised by other FIS agents throughout his time as an influence peddler and during his efforts to sell off American resources," he write.
"The FBl' s lack of interest in Biden family dealings is troubling," he added. "The national security threat…
Continue Reading