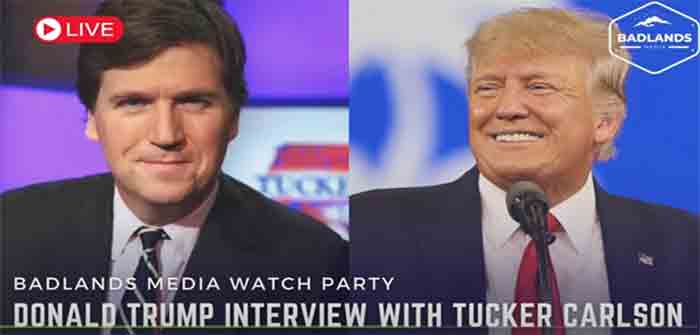 Editor's Note: The T-Room wishes to thank The Hill for putting this post together. 
by Lauren Sforza at The Hill
Former President Trump's prerecorded sit-down with ex-Fox News host Tucker Carlson will be released Wednesday night as the first presidential debate in Milwaukee — which the GOP front-runner opted to skip — is set to begin.
The interview also comes on the eve of Trump surrendering himself to authorities in Georgia over the Fulton County 2020 election case in which he was charged with 13 counts related to efforts to overturn the state election.
Here's how to watch the interview:
When will it air?
The interview will air at 8:55 p.m. Wednesday, just minutes before GOP candidates take to the debate stage in Milwaukee.
Where will it air?
Those interested in the interview can tune into Carlson's account on X, the platform formerly known as Twitter.
Carlson released a short video earlier Wednesday teasing his interview with the former president. Since Carlson left Fox News earlier this year, he launched an online version of his prime-time show on X.
"Whatever you think of Trump, he is the far and away indisputable front-runner in the Republican race," Carlson said during the video. "So when Trump approached us about having a conversation for a far larger audience than he would receive on cable news, we happily accepted."
The interview is not live, but it can be seen as an attempt by Trump to pull attention away from his primary challengers on the debate stage as well as a slight to Fox News, which is hosting the Republican debate.
Trump has had a contentious relationship with Fox News for months and said he was "surprised" in April to see Fox News take Carlson off the air.
Why isn't Trump debating?
Trump confirmed Sunday he would not be participating in the debate, largely due to his sizable lead in national polls.
For months, the former president has suggested he was likely to skip at least the first two primary debates, questioning in speeches and in posts on social media why he would attend given his comfortable lead in the polls.
Trump also said last week he would not sign the Republican National Convention (RNC) loyalty pledge — one of the three requirements candidates need to meet to qualify for the debate.
How can I watch the debate?
The debate will kick off at 9 p.m. and will be covered across all platforms operated by the Fox News network, including Fox Business Network, Fox News Digital, Fox's website, the Fox Nation streaming service and Fox News Audio.
The RNC also said the debate will be livestreamed on Rumble, a video-sharing service popular with conservatives.
Eight Republican presidential hopefuls will be participating in the debate: Florida Gov. Ron DeSantis, Vivek Ramaswamy, former Vice President Mike Pence, Former U.N. Ambassador Nikki Haley, Sen. Tim Scott (S.C.), former New Jersey Gov. Chris Christie, former Arkansas Gov. Asa Hutchinson, and North Dakota Gov. Doug Burgum.
Continue Reading