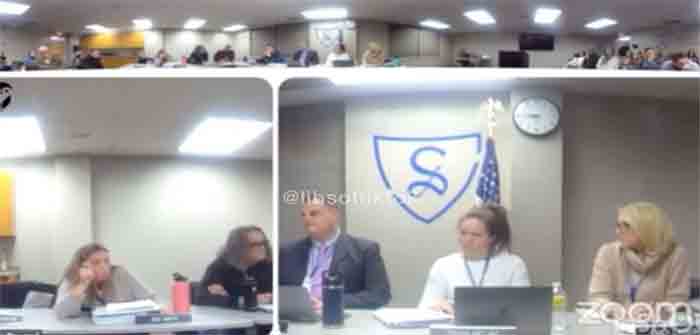 by Olivia Rondeau at The Post Millennial
In a video obtained by Libs of TikTok, a mom of a Minnesota public school student can be heard questioning the board about an explicit book used in classrooms, reading a pornographic excerpt describing gay sex acts in great detail that sparked a debate between board members.
"I'm going to read you several different passages from a book titled 'Him' by Sarina Bowen that the district made available for students to check out in room Heinz 104, an English classroom," the mother, identified as Marie Pangerl, began in her virtual address to the board of MN's Sartell-St. Stephen Independent School District 748. "I want to know how and why this book was ever allowed in our school, more specifically, that process that was just discussed and how books are approved."
https://twitter.com/libsoftiktok/status/1619077199734120460?ref_src=twsrc%5Etfw%7Ctwcamp%5Etweetembed%7Ctwterm%5E1619077199734120460%7Ctwgr%5Ec594f7d4b1ed13d6af71b3a202a9d445e2cfd80d%7Ctwcon%5Es1_c10&ref_url=https%3A%2F%2Fthepostmillennial.com%2Fmust-watch-minnesota-mom-stuns-school-board-with-passages-from-gay-porn-book-available-to-english-students
She then began reading a portion of the book out loud, from when the author was graphically describing acts of oral, digital, and anal sex between two young men.
"I sucked him deeper into my mouth, almost to the base. And just when he moaned, I released him, gliding my tongue along the long, hard length of him, until his d*ck was glistening," the disgruntled mother said to the school board.
"I laughed at the moisture leaking out of his tip, and the taste of him infused my tongue, making my head spin. I was blowing my best friend. It was so surreal. It was what I dreamed about for so long, and the fantasy was nothing compared to the reality."
According to the book's overview, protagonist Ryan Wesley…
Continue Reading