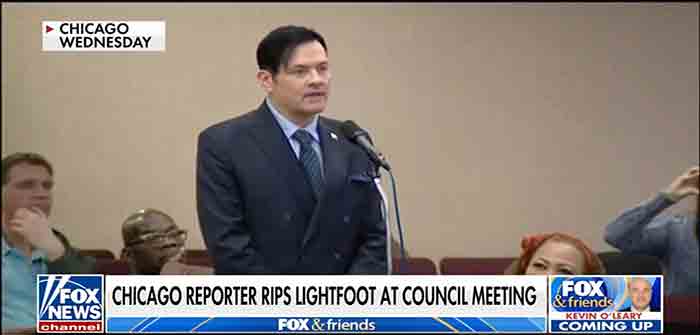 by Cullen Linebarger at The Gateway Pundit
Chicago reporter William Kelly obliterated outgoing Chicago mayor Lori Lightfoot during Wednesday's city council meeting.
Lightfoot conceded defeat in last month's mayoral race after failing to make the runoff, finishing third in the first round of voting.
As Fox News reported, Lightfoot used to have standoffs with Kelly over her failed leadership before trying to silence Kelly by pulling his press credentials.
Kelly filed a lawsuit in response to Lightfoot's thin-skinned move.
Lightfoot knew she could not handle the truth. The Gateway Pundit has extensively reported on how crime soared and homicides went through the roof under Lightfoot's regime. Businesses were looted and fled the city.
In addition, she hurled f bombs at conservative leaders like President Donald Trump and Supreme Court Justice Clarence Thomas.
Finally, Lightfoot completely shut down Chicago during the COVID pandemic. Adults could neither go to church nor work and children were unable to attend school.
This caused untold misery for millions of Chicagoans.
Kelly's tour de force gave a voice to all those who suffered for four years under Lightfoot's reign.
WATCH:..
Continue Reading