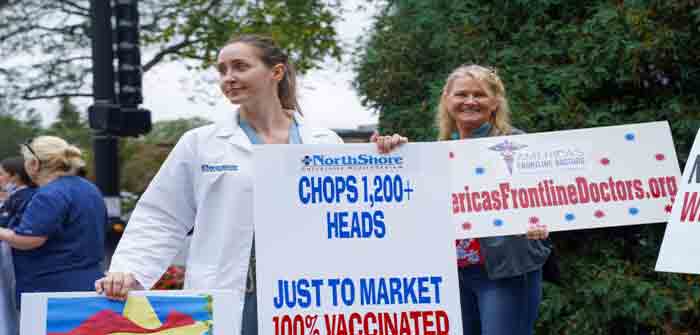 by Jack Phillips at The Epoch Times
A federal judge temporarily blocked an Illinois hospital system from allegedly putting workers with religious exemptions on unpaid leave.
In late October, several employees at the Chicago-area NorthShore filed a legal complaint against the company, arguing that the firm's vaccine mandate discriminated against them by forcing them to decide between a vaccine and their jobs.
Liberty Counsel, which is representing the 14 health care workers, said in an emailed statement last week that the "plaintiffs have shared these religious beliefs, and others, with NorthShore, and have asked NorthShore for exemption and reasonable accommodation for these beliefs, but NorthShore has unlawfully and callously refused."
U.S. District Judge John Kness on Friday issued a temporary restraining order against the hospital system.
"They can't be fired and they can't be placed on what is effectively, in my mind, unpaid leave," Kness said during a hearing on the lawsuit, reported the Chicago Tribune.
NorthShore is "going to have to keep paying them. If you wish to require them to show up to work and use [personal protective equipment] and go through testing because you need the help and you don't want to pay them to be off site, that's up to the hospital," he added.
Liberty Counsel said…
Continue Reading