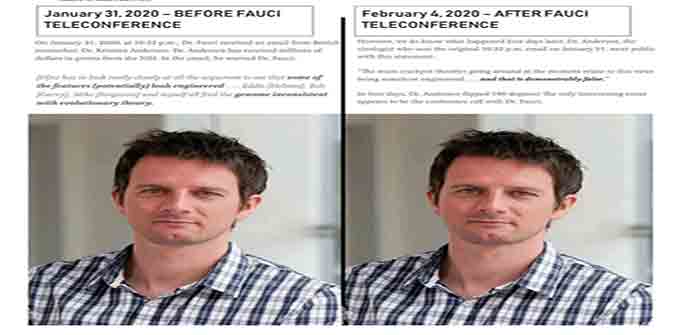 by Kane at Citizen Free Speech
The man on the left is Kristian Andersen, a British scientist who emailed Fauci 1/31/20, saying the virus looks lab-made. The man on the right is Kristian Andersen, the guy who Fauci called on 2/1/20 and ordered to publicly say it wasn't lab-made, which he did. Fauci then gave… https://t.co/UDzIhNb37k pic.twitter.com/LY7ttS23kJ

— Mises Caucus (@LPMisesCaucus) March 1, 2023
Fauci gave Anderson a $1.88M grant, and $16.5M funding.
The Federalist has all the details…
Recently released e-mails show that Dr. Anthony Fauci knew key facts about the origins of COVID-19 in January 2020. But at that critical time, when the country was first learning about the virus, Dr. Fauci chose not to share the facts with Americans. Instead, he acted to conceal them.
On January 31, 2020, at 10:32 p.m., Dr. Fauci received an email from British researcher, Dr. Kristian Andersen. Dr. Andersen has received millions of dollars in grants from the NIH. In the email, he warned Dr. Fauci:
One has to look really closely at all the sequences to see that some of the features look engineered . . . Eddie [Holmes], Bob [Garry], Mike [Ferguson] and myself all find the genome inconsistent with evolutionary theory.
Two hours later, at 12:29 a.m. on February 1,…
Continue Reading