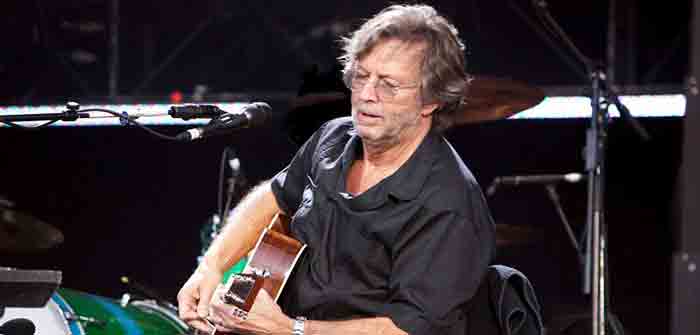 by Megan Redshaw at The Defender
Eric Clapton said he had a "disastrous" health experience after receiving the AstraZeneca COVID vaccine, and the 76-year-old musician blamed propaganda for overstating the vaccine's safety, Rolling Stone reported.
Clapton detailed his experience with AstraZeneca in a letter to Italian architect Robin Monotti, who shared it May 12 on Twitter.
In February, Clapton said he took his first dose of AstraZeneca and immediately suffered severe reactions lasting 10 days. About six weeks later he was offered and took the second dose, but with a little more knowledge of the dangers.
"Needless to say the reactions were disastrous, my hands and feet were either frozen, numb or burning, and pretty much useless for two weeks. I feared I would never play again," Clapton said. "But the propaganda said the vaccine was safe for everyone."
Clapton suffers from peripheral neuropathy and said he should never have gotten the jab. Peripheral neuropathy occurs as a result of damage to the nerves outside of the brain and spinal cord (peripheral nerves). It often causes weakness, numbness and pain, usually in the hands and feet, and can also affect other areas of the body.
Clapton said he met a member of an online group who counseled him to be careful and look at what's going on.
"I felt like a veil had been lifted, that I was no longer alone, that it was okay, in fact essential, to hold on to my intuition and follow my heart," Clapton said. "I continue to tread the path of passive rebellion and try to tow the line in order to be able to actively love my family, but it's hard to bite my tongue with what I now know," he added.
The AstraZeneca vaccine is not authorized in the U.S., but three COVID vaccines — Pfizer, Moderna and Johnson & Johnson — are. The Centers for Disease Control and Prevention recommends even those people with weakened immune systems and underlying medical conditions be vaccinated for COVID despite what the CDC states is  limited safety data for people who fall into those categories.

Vaccine makers running ad campaigns in hope of winning over non-takers
Days after Clapton's criticism of vaccine "propaganda," the Wall Street Journal reported on how, in the U.S., vaccine makers are sponsoring ad campaigns targeting the roughly one-third of Americans who are reluctant to get a COVID vaccine.
Pfizer, Moderna, Regeneron and other pharmaceutical companies are sponsoring ads on TV, radio and social media to tout COVID vaccines and medications.
Unlike typical pharmaceutical ads…
Continue Reading