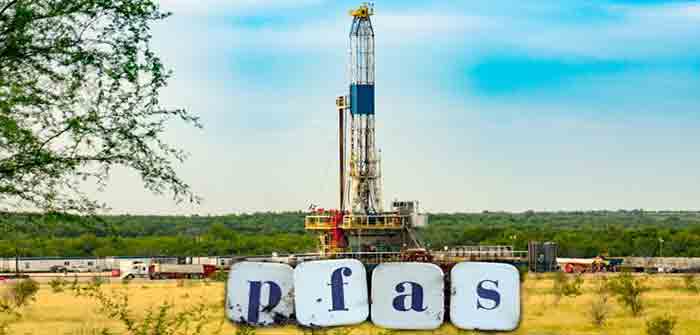 by Kenny Stancil at The Defender
Between 2012 and 2020, fossil fuel corporations injected potentially carcinogenic per- and polyfluoroalkyl substances (PFAS), or chemicals that can degrade into PFAS, into the ground while fracking for oil and gas, after former President Barack Obama's Environmental Protection Agency approved their use despite agency scientists' concerns about toxicity.
The EPA's approval in 2011 of three new compounds for use in oil and gas drilling or fracking that can eventually break down into PFAS, also called "forever chemicals," was not publicized until Physicians for Social Responsibility (PSR) obtained internal records from the agency through a Freedom of Information Act request, the New York Times reported Monday after reviewing the files.
According to PSR's new report, "Fracking with 'Forever Chemicals,'" oil and gas companies including ExxonMobil, Chevron, and others engaged in hydraulic fracturing, or fracking, have since 2012 pumped toxic chemicals that can form PFAS into more than 1,200 wells in Arkansas, Louisiana, Oklahoma, New Mexico, Texas and Wyoming.
While the Times noted that the newly released documents constitute some of the earliest evidence of the possible presence of PFAS in fracking fluids, PSR's report warns that "the lack of full disclosure of chemicals used in oil and gas operations raises the potential that PFAS could have been used even more extensively than records indicate, both geographically and in other stages of the oil and gas extraction process, such as drilling, that precede the underground injections known as fracking."…
Continue Reading