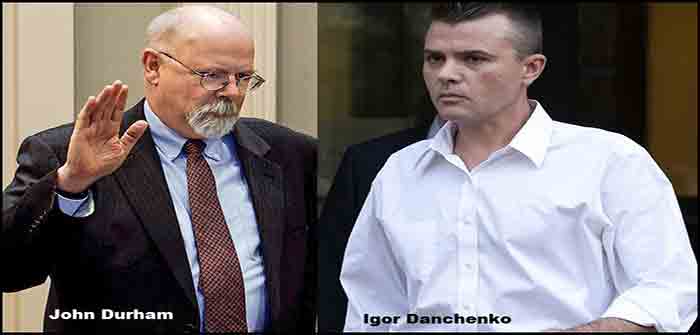 Editor's Note: The Washington Examiners, Jerry Dunleavy, is covering Danchenko v U.S. trial and did a great brief on what to expect during the trial. Highly recommend a review if following the trial. Click HERE
by Jerry Dunleavy at Washington Examiner
The FBI offered British ex-spy Christopher Steele an "incentive" of up to $1 million if he could prove the allegations in his since-discredited anti-Trump dossier, but the former MI6 agent was unable to back up his claims, according to new court testimony.
The bombshell revelation came during special counsel John Durham's false statements trial against Steele's main dossier source, Russian-born lawyer Igor Danchenko, who has been charged with repeatedly lying to the bureau about his sourcing for information he provided for the dossier in 2016. Danchenko has pleaded not guilty.
FBI supervisory intelligence analyst Brian Auten, who interviewed Danchenko in January 2017 as part of the bureau's Crossfire Hurricane team, was also among the FBI employees who interviewed Steele in early October 2016 in Rome as the FBI sought more details on the dossier. Auten revealed the lucrative reward the bureau had dangled.
DURHAM'S HIGH-STAKES TRIAL OF INFAMOUS ANTI-TRUMP DOSSIER SOURCES GETS UNDERWAY
Durham himself questioned Auten, who was the special counsel team's first witness in the trial that began with jury selection and opening arguments in a federal courtroom on Tuesday, and he pressed the FBI analyst on whether the FBI offered to provide Steele with any incentives in exchange for information corroborating his dossier's allegations. Danchenko's lawyers unsuccessfully objected to the question, overruled by the judge.
"Yes, it did," Auten said from the witness stand. "Mr. Steele was offered anywhere up to a million dollars" for information "which could help prove the allegations."
But Auten said "no" when asked if Steele ever provided evidence backing up his dossier claims. The FBI analyst also testified Danchenko never provided corroboration for the dossier's allegations either.
The FBI analyst also testified that other U.S. intelligence agencies…
Continue Reading