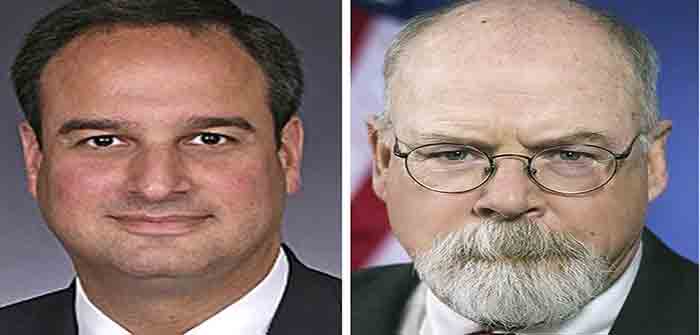 by Jerry Dunleavy at Washington Examiner
Special counsel John Durham's team says "Tech Executive-1" Rodney Joffe, a former client of indicted Democratic cybersecurity lawyer Michael Sussmann, remains the "subject" of an "ongoing" investigation, hinting he is being scrutinized for possibly defrauding the Defense Advanced Research Projects Agency.
Durham prosecutor Andrew DeFilippis said during a Wednesday court hearing that the special counsel's team is still "looking closely" at Joffe. He insisted there continue to be "ongoing investigative matters" and said that "some criminal statutes are longer than five years." Judge Christopher Cooper asked for an example, and the Durham prosecutor pointed to 18 U.S. Code 1031, which relates to major fraud against the U.S. government. DeFilippis specifically mentioned a DARPA contract.
Sussmann was indicted in September for allegedly concealing his clients — Clinton's 2016 presidential campaign and former Neustar executive Joffe — from FBI general counsel James Baker in September 2016 when he pushed since-debunked claims of a secret backchannel between the Trump Organization and Russia's Alfa-Bank.
Sussmann has pleaded not guilty, and Joffe hasn't been charged with anything.
Durham says Sussmann similarly concealed Joffe as his client when he pushed further Trump-Russia collusion claims to the CIA in February 2017.
The special counsel's filings reference Georgia Tech's "Agency-1 [DARPA] Contract." Durham's indictment of Sussmann stated that if the FBI had been told the true origins of the Alfa-Bank claims, it might have learned Joffe "had enlisted, and was continuing to enlist, the assistance of researchers at a U.S.-based university who were receiving and analyzing Internet data in connection with a pending federal government cybersecurity research contract" through DARPA.
Joffe and Sussmann linked Trump to Russian-made YotaPhones near the White House and elsewhere. The special counsel has rejected these allegations and said the CIA did too.
Durham revealed this year he has evidence that Joffe "exploited" domain name system internet traffic at Trump Tower, Trump's Central Park West apartment building, and the Executive Office of the President…
Continue Reading