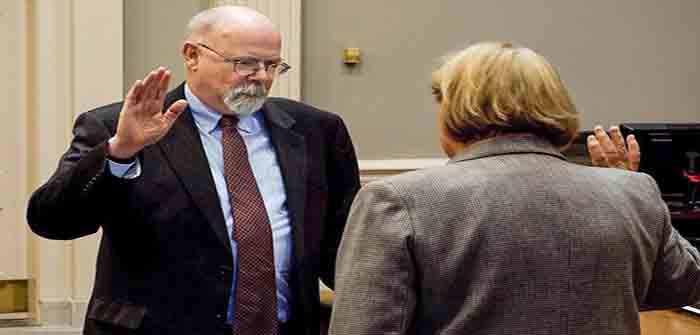 by Mark Wauck at Meaning in History
Andrea Widburg at American Thinker provides her own summary of the latest Durham revelations that have the internet—or the intelligent/conservative portion of it buzzing. At the end her piece Widburg quotes Sundance:
Preliminarily,

The obvious question is: If Rodney Joffe is spying on the office of the president, why hasn't he been indicted?

That's just one question, though. The real problem, which Sundance places at the head of his post, is this:

CTH begins every outline of the ongoing Durham investigation with the following disclaimer: How is John Durham going to reveal everything that is possible about the deep state Trump targeting operation, and simultaneously handle the involvement of Robert Mueller, Andrew Weissmann and the Special Counsel team who were specifically appointed to cover it up?

The short answer is, Durham can't. The ramifications would collapse the U.S. government; yes, all three collaborating branches.

As a consequence, some of these revelations are only valuable insofar as they will be needed by historians who look upon the scattered rubble of this once great republic and seek to explain to future generations how it all went wrong.

In other words, the Durham investigation is almost certainly just another cover-up. The Russia Hoax is a huge infection in the American body politic. It was Mueller's responsibility, and it's now Durham's, to hide that infection. To that end, Durham is going to focus America's attention on a few hangnails and scratches, in the hope it deflects us from the fact that the American political system is dying from sepsis. I would love to see Durham expose the whole festering mess, and I'd happily eat my words, but I don't see that happening.
There are some very short answers to this view. We've all known for a long time that the Russia Hoax bag contains a cat. Durham, with his investigation still proceeding, has opened that bag and the cat is out. Specifics.
First, there's a very obvious reason why Joffe hasn't been indicted, which Sundance—neither a lawyer nor a professional investigator—misses. It's because Durham is targeting him for cooperation. There's only one reason a member of a conspiracy is targeted for cooperation, and that's because that person was acting at the behest of someone higher up the ladder who exercised overall control of the conspiracy. There may still be people on the ladder below the very top, but in case you didn't get it—the cat that's now totally out of the bad is named Hillary Rodham Clinton (my reasoning below, pasted in from last night).
Second, Widburg somehow missed that the person she refers to as "Campaign Lawyer" Numero Uno is a true Big Fish in the Dem party apparatus and has already testified before Durham's Grand Jury. This person has a name, and that name is Marc Elias. The reason he has yet to be indicted is the same reason that Rodney Joffe hasn't been indicted—see above.
Third, regarding the name of the cat that's now completely out of the bag. My reasoning, from Did The Hillary Org Spy On President Trump. This reasoning is based on the fact that Michael Sussmann—who is under indictment—attempted to use the non-public material he and Joffe gathered to persuade the CIA to revive the Russia Hoax:…
Continue Reading