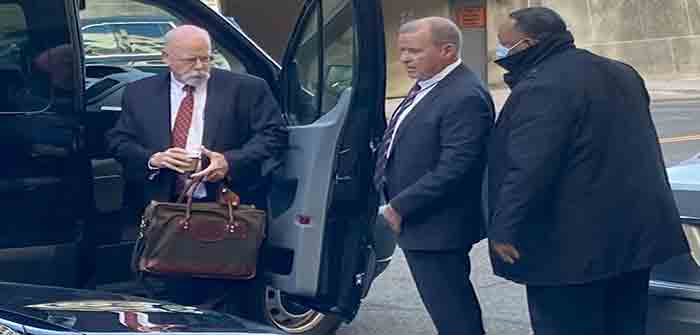 by Sundance at The Conservative Treehouse
People ask why I find it difficult to write about the Durham report empirically confirming everything we previously outlined in the past five years.  Here's my answer.
Eventually, after the shock & awe of the Durham confirmations wear off, I am hopeful that people will stand back and realize the bigger question that covers all of the Trump-Russia collusion conspiracy nonsense.   This was a United States government operation to conduct full-throated surveillance on a U.S. presidential candidate, and then remove that candidate from the office of the presidency after his victory in the 2016 election.
With John Durham outlining in granular details how the FBI, DOJ and larger intelligence apparatus acted politically to weaponize government on behalf of an allied presidential candidate in Hillary Clinton, a bigger question remains.  There never was any merit to the Trump-Russia nonsense, so what exactly were Robert Mueller and Andrew Weissmann doing for two years?
Using the silo defense as a method of obfuscation, John Durham noted in his report [page #2] as below, never delved into that obvious question.  Durham specifically, and with great intent, says he did not look at what Mueller and Weissmann were doing; even though, Durham destroyed any predication that might have given merit to the intention of their special counsel existence.
Durham writes a 316-page report, meticulously detailing the false construct of the Trump-Russia narrative.  Yet for some reason, the Mueller/Weissmann investigation, an entire special counsel investigation that was predicated and justified by that false Trump-Russia narrative, never found the same evidence?
Durham never looked at it.  Why? Because he knew Robert Mueller and Andrew Weissmann were installed to cover up the original fabrications by the CIA, FBI, DOJ and U.S. intelligence apparatus.  Mueller's probe existed in material fact to hide the Obama weaponization to target Donald Trump.   Durham knew this; that's why he never touched it.
Stop pretending.  Once you stop pretending,…
Continue Reading