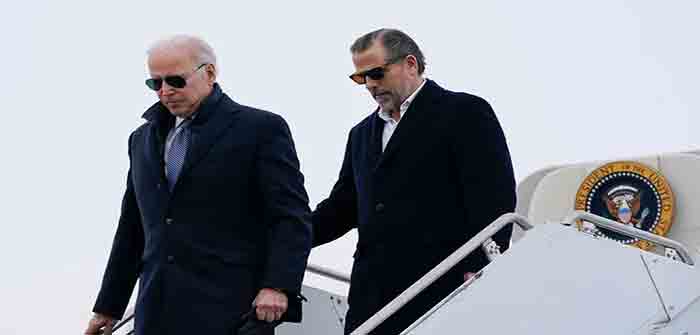 by Wendell Husebo at Breitbart
The White House, Democrats, and their allied media outlets have been pushing outright disinformation by claiming there is "no evidence" to support an impeachment inquiry into Democrat President Joe Biden, contradicting mounds of evidence uncovered by House Republicans and already in the public sphere.
The left's message since the launch of the impeachment inquiry into Biden seems clear and coordinated: several media outlets, Democrats, and the White House itself have all used phrases such as "without evidence," "no evidence," or "no direct evidence" to describe the House GOP effort that Speaker Kevin McCarthy announced earlier this week. But their claims are, quite simply, disinformation and easily disproven as the House Republicans have actually amassed quite a bit of evidence this year before proceeding to the next stage of the ongoing investigation — a massive escalation — with an impeachment inquiry.
WATCH — "President Biden Did Lie": McCarthy Announces Impeachment Inquiry into Joe Biden:
It is important to note an impeachment inquiry is not the consideration of articles of impeachment. That could — or might not — come later. But an impeachment inquiry is simply that: an inquiry. It is an expansion, acceleration, and coordination of several committees' ongoing investigative work and may end up leading to an impeachment — or it might not. That remains unclear. While McCarthy launched it with a public comment and directive to the members of his conference and the committees that will lead it, McCarthy's comments also do not preclude an eventual possible vote formally authorizing such an inquiry down the road. That's exactly what House Democrats did under then-Speaker Nancy Pelosi in their first impeachment of then-President Donald Trump in 2019 — she made an announcement and then five weeks later the House formally voted on the authorization. That could very well happen here.
Nonetheless, given the expansion and acceleration of the ongoing investigations into the president and his conduct, and with the announcement of the now-commenced impeachment inquiry, House Republicans have already amassed lots of evidence against Biden.
The evidence pointing towards Joe Biden's involvement in the family business includes…
Continue Reading