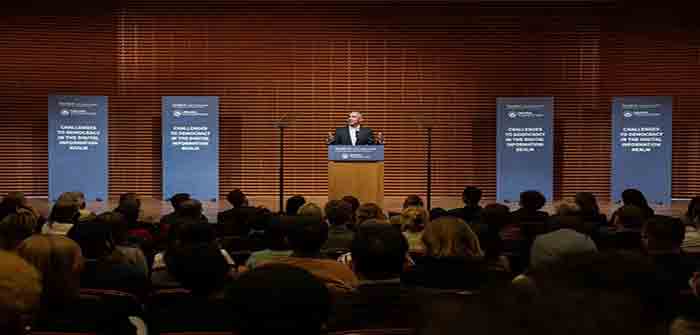 by Barack Obama at Medium
Hello, Stanford. It is great to be in California and back in beautiful Palo Alto. Coming here always makes me want to go back to college, although an 18-year-old Barack Obama would not have gotten in. I got more serious, later.
I want to thank the Cyber Policy Center here at Stanford for hosting this event. I want to thank Tiana for that outstanding introduction, and for all the work that you are doing. I want to thank a great friend and a remarkable public servant and Ambassador of Russia, during very difficult times, and one of my top advisors, Michael McFaul, for being here.
Michelle and I set up the Obama Foundation to train the next generation of leaders, and I think you saw in Tiana, the example of the kind of remarkable leadership that's out there, with the talent and vision to lead us forward, as long as old people get out of the way.
During some of the darkest days of World War II, American philosopher, Reinhold Niebuhr, wrote the following, "Man's capacity for justice makes democracy possible, but man's inclination to injustice makes democracy necessary."
We're living through another tumultuous, dangerous moment in history. All of us have been horrified by Russia's brutal invasion of the Ukraine. A nuclear-armed despot's response to a neighboring state whose only provocation is its desire to be independent and democratic. An invasion of this scale hasn't been seen in Europe since World War II, and we've all witnessed the resulting death and destruction, and the displacement, in real time.
The stakes are enormous, and the courage displayed by ordinary Ukrainians has been extraordinary and demands our support. Unfortunately, a war in the Ukraine isn't happening in a vacuum. Vladimir Putin's aggression is part of a larger trend, even if similar levels of oppression and lawless and violence and suffering don't always attract the same levels of attention if they happen outside of Europe,
Autocrats and aspiring strongmen have become emboldened around the globe. They're actively subverting democracy, they're undermining hard-won human rights, they're ignoring international law.
Democratic backsliding is not restricted to distant lands. Right here, in the United States of America, we just saw a sitting president deny the clear results of an election and help incite a violent insurrection at the nation's capital. Not only that, but a majority of his party, including many who occupy some of the highest offices in the land, continue to cast doubt on the legitimacy of the last election, and are using it to justify laws that restrict the vote, making it easier to overturn the will of the people in states where they hold power.
But for those of us who believe in democracy and the rule of law, this should serve as a wake-up call. We have to admit that, at least in the years since the Cold War ended, democracies have grown dangerously complacent.
Too often, we've taken freedom for granted. What recent events remind us, is that democracy is neither inevitable nor self-executed. Citizens like us have to nurture it. We have to tend to it and fight for it, and as our circumstances change, we have to be willing to look at ourselves critically, making reforms that can allow democracy, not just to survive, but to thrive.
That won't be easy. A lot of factors have contributed to the weakening of democratic institutions around the world. One of those factors is globalization which has helped lift hundreds and millions out of poverty, most notably in China and India, but which, along with automation has also ended entire economies, accelerated global inequality, and left millions of others feeling betrayed and angry at existing political institutions.
There is the increased mobility and urbanization of modern life, which
Continue Reading