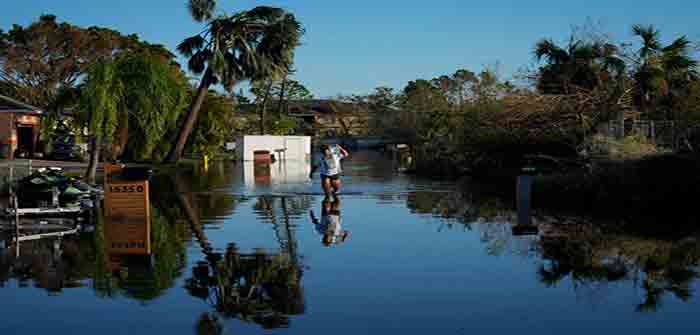 by Claudia Aoraha at Daily Mail
The current number of fatalities is only expected to grow as rescue teams dive in and assess the shattered towns submerged by Ian's fury 
According to officials, there have been 100 deaths recorded in Florida, and four more in North Carolina
This currently brings the death toll caused by devastating Hurricane Ian to 104 
The eye-watering insurance industry projection includes estimated wind, storm surge, and inland flood losses resulting from Ian's landfalls in both Florida and South Carolina 
Additionally, an estimated 600,014 homes and businesses were still without power in Florida early on Monday after Hurricane Ian crashed across the state last week
The desperate search for Hurricane Ian survivors continued today as the mounting death toll reached at least 104 – after the torrent caused an estimated $60 billion in damage.
Fort Myers Beach residents were warned that they may not be able to return to their waterlogged homes for months because of the devastation blighting the coastal community.
Insurers assessing the damage to properties ransacked by the flooding and winds are bracing for a multi-billion dollar hit after Florida's streets were turned into rivers and houses were engulfed by the raging Category 4 storm. 
Decimated coastal towns and submerged homes are only the tip of the iceberg in terms of the catastrophic loss caused by the violent weather front last week. So far, more than 1,600 locals have been rescued.
According to weatherman Cameron Hardin, residents on Fort Myers Beach could be homeless for months as authorities aren't even close to finishing shifting through the wreckage nearby. Lee County officials also said there will be power outages in the area for at least the next four weeks.
The current number of fatalities is only expected to grow as rescue teams dive in and assess the shattered towns submerged by Ian's fury – while 583,342 people are still in darkness after the hurricane obliterated power lines.
Depleted survivors on 'ground zero' Fort Myers, which was obliterated by the 10-foot storm surge, were forced to escape the aftermath on foot, while clear up teams rummaged street by street though the shocking debris.
The eye-watering projection includes estimated wind, storm surge, and inland flood losses resulting from Ian's landfalls in both Florida and South Carolina, risk modeling firm Verisk said…
Continue Reading