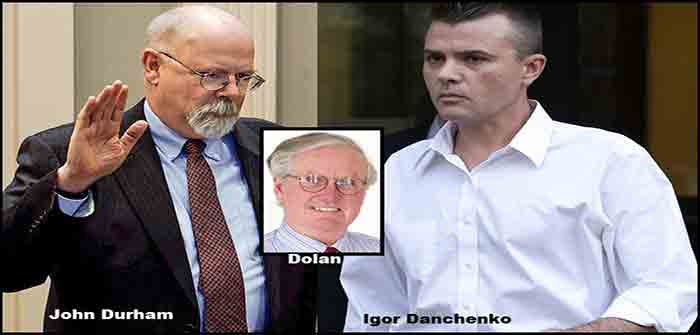 by Sundance at The Conservative Treehouse
As the third day of the trial of Igor Danchenko took place a Clinton campaign operative named Charles Dolan was called to the witness stand to explain his relationship to the accused fabricator of information used within the Christopher Steele dossier.  [TechnoFog has a deep dive on the testimony – HERE]
Charles Dolan has deep ties to the Democrat party. He has been a long-term advisor to Hillary Clinton, served as state chairman of Bill Clinton's 1992 and 1996 presidential campaigns, and was a key player in Hillary Clinton's 2008 presidential campaign.  Dolan is an operative within the larger democrat machinery, a leftist version of Karl Rove.
Dolan was also a source for the Steele Dossier by providing information to Igor Danchenko who then sent the information to Chris Steele for inclusion in the Trump-dirt Steele Dossier.
When Charles Dolan was called to the witness stand, he admitted under direct questioning that he "embellished" and manufactured information provided to Igor Danchenko. He also noticed when the Dossier was made public that information he provided was included.  In essence, Dolan was one of the many people who generated nonsense lies, which became fabrications within the Steele dossier that the FBI later used to gain a FISA warrant.
It is infuriating, albeit not surprising, to see leftist media like Politico report on the Dolan lies as if the held no consequence.  This, after years of pushing the dossier material in order for leftist media to engineer completely fabricated narratives:…
Continue Reading