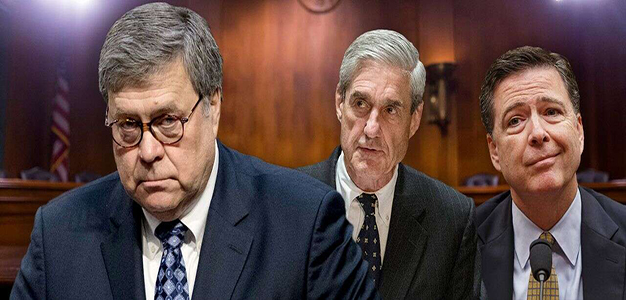 by Margot Cleveland at The Federalist
The Virginia jury deciding the fate of Christopher Steele's primary sub-source, Igor Danchenko, continues deliberations Tuesday on the false statements charges brought by Special Counsel John Durham. No matter the eventual verdict, however, like Durham's prosecution of former Clinton campaign lawyer Michael Sussmann, the criminal case against Danchenko revealed extensive evidence of malfeasance by the Crossfire Hurricane team.
A catalog of these new revelations will be forthcoming, but one detail deserves a singular focus now: The criminal case against Danchenko confirmed that Crossfire Hurricane was never properly predicated and that instead, politics prompted the targeting of Donald Trump's presidential campaign.
This conclusion follows from two facts: First, after Danchenko allegedly told a colleague he knew people who would buy classified information, the FBI did not launch a full investigation into the Russian until obtaining corroborating evidence. And second, as revealed last week during the Danchenko trial, the FBI refused to open an investigation into the Clinton-connected Charles Dolan, as some members of Special Counsel Robert Mueller's team believed appropriate.
Revisiting Crossfire Hurricane
In December of 2019, the Department of Justice's Office of Inspector General issued a scathing 478-page report on the DOJ and FBI's abuse of the Foreign Intelligence Surveillance Act, or "FISA," to obtain a court order to surveil former Trump campaign adviser Carter Page. While in the OIG report Inspector General Michael Horowitz identified 17 specific "inaccuracies and omissions" contained in the FISA application — there were actually eighteen — Horowitz also concluded the Crossfire Hurricane investigation had been properly predicated under the Attorney General Guidelines and had been opened for an "authorized purpose" and without any evidence of a political motivation.
Horowitz explained the purported predication for the investigation in the OIG report as follows:
The FBI opened Crossfire Hurricane on July 31, 2016, just days after its receipt of information from a Friendly Foreign Government (FFG) reporting that, in May 2016, during a meeting with the FFG, then Trump campaign foreign policy advisor George Papadopoulos "suggested the Trump team had received some kind of suggestion from Russia that it could assist this process with the anonymous release of information during the campaign that would be damaging to Mrs. Clinton (and President Obama)." The FBI Electronic Communication (EC) opening the Crossfire Hurricane investigation stated that, based on the FFG information, "this investigation is being opened to determine whether individual(s) associated with the Trump campaign are witting of and/or coordinating activities with the Government of Russia."
The OIG report then noted it did not find any evidence indicating anything "other than the FFG information was relied upon to predicate the opening of the Crossfire Hurricane investigation." Horowitz added that, while they hadn't noted it in the opening communication, "the FBI officials involved in opening the investigation had reason to believe that Russia may have been connected to the Wikileaks disclosures that occurred earlier in July 2016, and were aware of information regarding Russia's efforts to interfere with the 2016 U.S. elections."
Moreover, according to the OIG report,…
Continue Reading